British number one Johanna Konta advanced to the third round of the US Open on Wednesday (31 August), but her three-set triumph over Tsvetana Pironkova of Bulgaria was overshadowed by a worrying health scare. Defending a one-set lead at 6-2, 5-6, the 25-year-old, seeded a career-high 13th for the last tennis grand slam of the year, collapsed to her knees amid typically oppressive humidity of approximately 80% at Flushing Meadows and began hyperventilating and "violently shaking" while complaining of blurred vision.
Konta later received the appropriate medical attention and sat on a towel as ice packs were administered to her body during a lengthy stoppage. She returned only to botch a second serve while down set-point and utilised a bathroom break before showing incredible resilience to seal a draining 6-2, 5-7, 6-2 victory in the searing heat to tee up a match against Swizerland's Belinda Bencic on Friday. An understandably frustrated Pironkova claimed that the match had been stopped for too long and had cost her crucial momentum.
This is not the first time that the US Open has witnessed an apparent incident of heat-related illness. Last year, American Jack Sock retired from the tournament after cramping up and collapsing during the fourth set of his second-round tie against Ruben Bemelmans.
That, combined with Denis Istomin's leg problem, took the number of withdrawals to 12, which equalled the Open era record for the number of male singles players to quit a grand slam. While it is important to stress that not all of these cases were weather-related, the soaring temperatures did appear to play a crucial part.

In 2014, blighted by similar cramps, Peng Shuai was treated for a heat illness during her semi-final clash with Caroline Wozniacki and eventually retired before leaving the court in a wheelchair.
What is heatstroke/heat exhaustion and how are tennis players protected?
Heatstroke occurs when a person becomes too hot. As defined by the NHS, it happens when the body is "no longer able to cool itself and a person's body temperature becomes dangerously high". It is said to be rarer and more dangerous than heat exhaustion, which is where an overheating body begins to lose water and salt.
Headache, muscle cramps, excessive sweating and a fast pulse are some the signs of heat exhaustion, which can lead to more serious symptoms such as seizures and a loss of consciousness if left untreated. Lying down in a cool place, removing unnecessary clothing, cooling/fanning the skin and drinking fluids are among the suggested courses of action to combat the condition.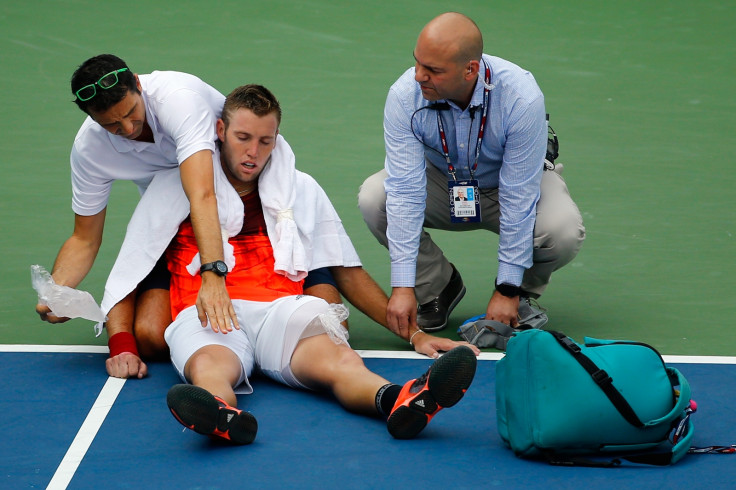 In 1992, the Women's Tennis Association (WTA) introduced a heat rule throughout its tour events. It permits female players to take a 10-minute break between the second and third sets when the heat stress index, encompassing air temperature, humidity and surface temperature, reaches or exceeds 30.1 degrees celsius. It is a source of ongoing controversy and frustration that the ATP tour does not feature a similar rule for men, despite playing best-of-five-set matches at grand slam tournaments.
A new $150 million retractable roof has also been installed at Arthur Ashe Stadium in time for this year's US Open, although that is primarily aimed at avoiding the sort of rain delays that have blighted the tournament in recent years, but the outer courts remained uncovered. The Australian Open, which has its own extreme heat policy updated last year in the aftermath of a blisteringly hot 2014 event, now boasts three courts with roofs that can be closed to offer protection.