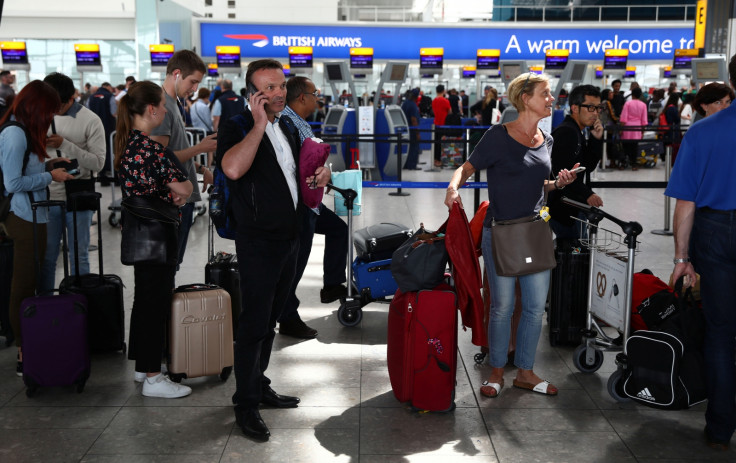 Update: Bag desks are now operating normally at all terminals, according to a statement from Heathrow at 9.07am BST.
Customers who departed without their main luggage during the earlier problem have been advised to contact their airlines for more information.
Original report: Travellers departing from London Heathrow Airport may have to board flights with only hand luggage in tow after a "systems failure" at Terminals 3 and 5.
British Airways, Iberia, and American Airlines flights to Europe and the US are among the services affected. All other terminals are operating normally.
A Heathrow spokesperson told IBTimes UK that the disruption is not affecting departure times, only baggage handling.
In a statement released on 15 June at 6.45 BST, the airport warned passengers to pack any "essentials" in their hand luggage as other bags may not be transported on the same flights.
In response to a question on Twitter, they told one passenger they are "hoping the baggage system will be back" by tomorrow morning. "We're working hard to get the system running as soon as possible," they added.
Passengers have been advised to contact their airlines to ascertain whether their flights are affected by the baggage issues.
Heathrow intend to provide more updates as the situation evolves.
This morning's statement said: "Heathrow is currently experiencing an issue with baggage systems affecting airlines operating from Terminal 3 and Terminal 5. Other terminals are unaffected.
"This may mean passengers will travel without their bags, and we advise them to pack essential items in their hand luggage.
"We are currently investigating the issue. We are sorry for the disruption and are working hard to get the system running as soon as possible."
This follows a massive IT system failure last month which caused major disruption for thousands of British Airways passengers.