A little over 12 hours since Grenfell Tower in west London caught fire, leaving numerous dead and hundreds displaced, speculation is rife on what caused the blaze.
So far, six confirmed fatalities have been announced but that number is expected to rise – it is possible scores have been killed.
1. The faulty fridge
Rumours of a faulty fridge have been circulating among local residents and journalists on the scene.
It has been widely reported that a resident was overheard describing how an electrical fault in his fridge caused the initial fire, but this has not been confirmed.
Samira Lamrani, who lives nearby, told the Press Association: "When I arrived on the scene he [the resident allegedly responsible] was amongst the people that were standing there.
"He was just beside himself. He was just as surprised at how quickly the fire spread as anybody else. I could hear him saying that he contacted the emergency services immediately and they reassured him everything would be under control within a short period of time, and obviously it wasn't."
2. Communal area rubbish and clutter
The Kensington and Chelsea Tenants Management Organisation (KCTMO), who were responsible for fire safety at the flats, are reported to have acknowledged fire risks arising from untidiness in the block's communal area.
The Guardian claims to have seen board papers from 2016 that claim they will undertake "further work to address the issue of storage and charging of mobility scooters within communal areas" as means of improving fire safety.
The KCTMO have been under intense scrutiny this morning after a blog post, written by a tenants action group (GFA) in January 2016 was uncovered, reading: "Only a catastrophic event will expose the ineptitude and incompetence of our landlord, the KCTMO, and bring an end to the dangerous living conditions and neglect of health and safety legislation that they inflict upon their tenants and leaseholders."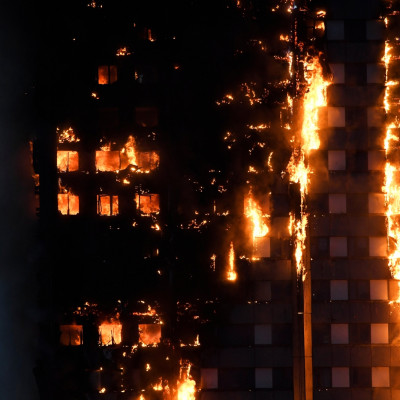 3. Faulty wiring
The GFA wrote in a 2013 blog post that "the KCTMO narrowly averted a major fire disaster at Grenfell Tower in 2013 when residents experienced a period of terrifying power surges that were subsequently found to have been caused by faulty wiring."
4. Gas explosion
Work on the gas supply to the flats had recently been undertaken, according to The Telegraph, although there is minimal evidence to back up the view that a gas explosion caused the tragedy.
The Telegraph spoke to a seventh floor resident, Nicky Paramasivan, who says that he saw blue flames, which suggests a gas fire, but this has not been corroborated by anyone else.
5. Zinc cladding
While not being floated as a cause of the fire, the installation of zinc cladding to Grenfell Tower's exterior is possibly a reason the fire spread so quickly.
"This is very different from normal fires we see within block flats because normally we deal with what's internal," fire safety expert Graham Fieldhouse told the BBC.
"But the external spread of fire, which seems to be the case that happened here, is nothing new though because Lakanal [a 2009 block fire in Camberwell] was partly an external spread."