Boris Johnson has stressed that his services as a "bulldozer blocker" will not be needed after an independent report backed plans to build a third runway at Heathrow Airport.
The Mayor of London, who campaigned against the expansion proposal in the run-up to the general election, claimed that the extra capacity at the west London airport will not be constructed.
The newly elected Uxbridge and South Ruislip MP made the defiant remark after the Airports Commission's final report, authored by Sir Howard Davies, supported the £17bn ($26.7bn) expansion plan. The report stated that a Heathrow expansion is expected to create 70,000 jobs by 2050 and boost the economy by £147bn (€147bn, $231bn).
"I don't think that will happen for a very long time, if indeed ever. We are now at a highly predictable stage of a national debate over this new runway," Johnson told the BBC One's Breakfast show.
"The trouble with Heathrow is that it produces overwhelming noise pollution for the people of London and this runway, a new third runway, as [Davies] acknowledges, will be an inevitable precursor for a fourth runway, with a catastrophic impact on the populations in the city and for noise pollution around West London.
"So I'm afraid it's not going to happen – my services as a bulldozer blocker will not be required," said Johnson.
The top Tory also noted the strict restrictions the Airports Commission had recommended to the government on the third runway, which included a ban on night flights from 11.30pm to 6am and a commitment to rule out a fourth runway.
The Labour test
Labour said it could back the proposal if it passes a "number of tests" from the party.
"Labour has always been clear that more airport capacity is vital to Britain's economic success and we need action if we are to maintain our status as Europe's most important aviation hub," said Michael Dugher MP, Labour's shadow transport secretary.
"We will scrutinise the Airports Commission's final report carefully. If the recommendation can meet a number of tests, including consistency with our climate change obligations, we will take a swift decision to back Sir Howard Davies' proposals.
"How we tackle the need for aviation expansion is likely to be one of the biggest decisions for this country this decade and the ministers' difficulties with their own party should not influence their approach. We must not let politics get in the way of good business – there is too much at stake."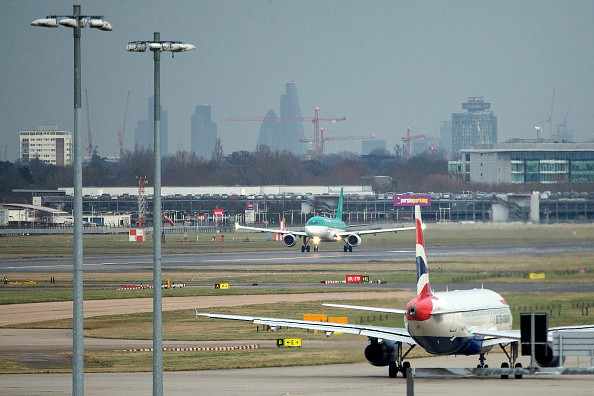 Heathrow Airport
Getty
Green Party disappointment
Elsewhere, the Green Party said it was "deeply disappointed" by the commission's conclusions and argued that an expansion would be at odds with the UK's climate change commitments.
"The reality is that endless growth in our aviation capacity is incompatible with the UK's climate change commitments. It's also bad news for local residents who will suffer enormously from increasing noise and air pollution," said Caroline Lucas, Brighton Pavilion MP.
"It's clear that a small minority of wealthy individuals are fuelling the demand for airport expansion - not families taking an annual holiday or businesses. We need fairer and more honest approach to the aviation debate that rules out airport expansion once and for all."