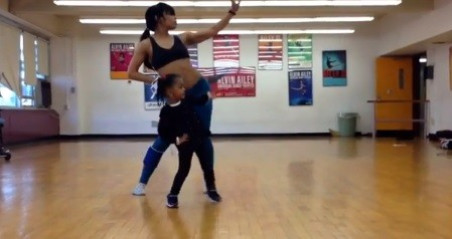 A three-year-old girl has become an internet sensation after a video of her dancing was posted online.
Heaven King melted the hearts of millions across the globe when footage of her dancing to Beyonce's hit End Of Time with her choreographer mother Tianne surfaced on YouTube.
In the five-minute clip, Heaven, a two-year-old at the time the video was shot, is seen sashaying across the studio while showing off her ability to remember choreography.
Although she easily mimics her mother's complicated steps, she also takes the opportunity to add some freestyle moves of her own.
The video has since racked up nearly 2 million views and has been liked by more than 10,000 viewers.
"My heart can't handle all that cuteness. I'm on the verge of tears. Just too adorable," one viewer said.
Another person who watched the clip wrote: "I love it!! She is sooo cute! And its amazing that this little girl can remember choreography that well!!"
The video also caught the attention of Ellen DeGeneres and the dancing mother-and daughter duo were invited to the show to perform the choreography in front of a live audience.
During their appearance, DeGeneres asked Heaven if she wanted to be a dancer when she grew up to which the little girl responded, "I AM a dancer!"
King teaches dance classes in Atlanta and says that her daughter's dancing is still improving.