There were many ways to take Labour MP Helen Goodman's "Chinese wife" tweet, which exploded into the social media ether on Sunday evening as most other people in the country fell asleep in front of Downton Abbey. "If China is so great, why did @Jeremy_Hunt's wife come to England?" riddled Goodman, who is MP for Bishop Auckland in County Durham, out of absolutely nowhere and without any context.
She was, presumably, talking about a recent furore surrounding comments made by Hunt, the Conservative health secretary, who said British workers should work harder, and used the Chinese as an example, as well as the Americans. Hunt also included the puzzling non sequitur "my wife is Chinese", which Goodman is referencing.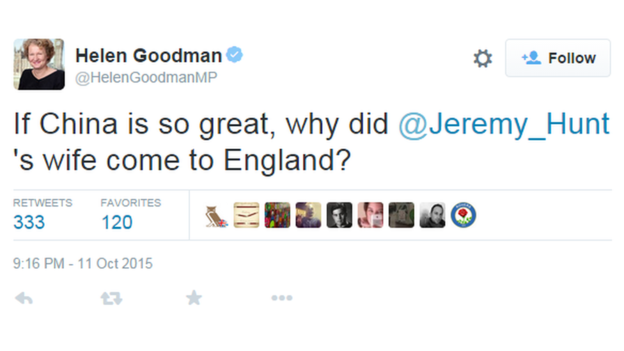 Her clumsy rhetorical point appears to be – some seven whole days after Hunt's comments, such is the time lapse between her brain and fingers – that Hunt's use of Chinese workers as an aspirational benchmark is stupid because of their conditions and widespread poverty.
And, at least in Goodman's mind if nobody's else's, the only plausible reason Hunt's wife would come to the UK is to flee appalling conditions in China. Rather than, say, to study, work or for love. So she got an earful on Twitter, deleted the tasteless tweet and apologised. But this is not the first Goodman gaffe. And it probably won't be the last. Here are some other classics.
She made a speech to a village in her constituency but thought she was somewhere else
Speaking at a village fete in Ingleton, County Durham, Goodman praised the area's beautiful caves and waterfalls, and its connections with the Sherlock Holmes author Arthur Conan Doyle. After five minutes of what was described by onlookers as "babbling", she stepped away from the microphone and was informed that she had been talking about Ingleton, North Yorkshire, a different village, in a different county. Which must have explained all the confused faces staring back at her. Easy mistake to make though, she had only represented the constituency for nine years by that point.
'As a working mum...'
The Labour MP Yvette Cooper has had an illustrious political career, becoming an MP in 1997 and serving in both the Blair and Brown governments, before becoming Miliband's shadow home secretary. So when she stood for the Labour leadership, she secured the backing of Goodman. Why? "Much more important to me than being an MP and shadow minister is that I am a mum," Goodman wrote for Huffington Post. "That's why I'm backing Yvette Cooper to be the next leader of the Labour Party. As a working mum, she understands the pressures on modern family life."
She was roundly panned for trivialising Cooper and women in politics, as well as patronising Cooper's childless rival Liz Kendall.
Tory puppets
Reacting to a controversial Daily Mail feature which probed the sartorial choices of senior women Conservative ministers, Goodman said the newspaper was right to do so. This is despite howls of outrage from feminists who said it was yet another demeaning example of women in the public eye being judged for their style rather than their substance. Goodman tweeted: "Mail's page on Tory women was fair: all are puppets who'll change nothing and their appearance really is most interesting thing about them." Then she apologised and deleted it.
A tortured tweet
The trouble with this tweet is that it takes in earnest a satirical arms fair poster made by those notorious weapons traders at Amnesty International.
I can send an email, I can click onto Windows
Under Miliband, Goodman was a shadow minister of state for culture, media and sport. She was a top spokesperson on the futurological cutting edge, on where technology is going next. In particular, her brief included "broadband, spectrum and telecoms, and internet and creative industries". So this is an (un)enlightening exchange during an independent parliamentary inquiry into child protection online between Goodman and two representatives from a parental controls software firm...
Helen Goodman: I'm sorry, maybe I'm particularly stupid, but I haven't understood how I get this software or this kit or whatever it is, this filter thingy that you click or whatever without buying a new computer and I don't want to spend a thousand pounds just to have a filter. I just haven't understood what I do, and you've been talking to us and I've been in this room for half an hour.
Matt Lambert: You can download any number of parental control software for free...
Helen Goodman: But I don't know how to download parental controls. I can send an email, I can click onto Windows but the minute you talk about downloading software, my brain goes bzzzz.
Matt Lambert: OK, I'm sorry I'm using a technical term, but if you go to search and you ask for parental controls, you will find, whichever search engine you're using, you'll find any number of free options including ours.
Jonny Shipp: If you talk to your service provider, they'll help you, I think, mostly.
Helen Goodman: How do you talk to them?
Jonny Shipp: The service provider that provides your internet connection at home.
Helen Goodman: You mean you phone them up?
Jonny Shipp: Yes, or however you'd normally talk to them.
Helen Goodman: I don't normally talk to them very often.
Always listen to your husband's expensive advice.
Goodman was caught up in the parliamentary expenses scandal. Although she was cleared of any breaches, there was one particular entry on her expenses claims that got people's hackles up: she bunged her own husband £600 for some advice. Her husband is a management consultant and she says he gave her professional advice. According to the invoice, this was advice on "improving communications between Westminster and constituency offices; on setting up a work planning system; budgeting and financial control".