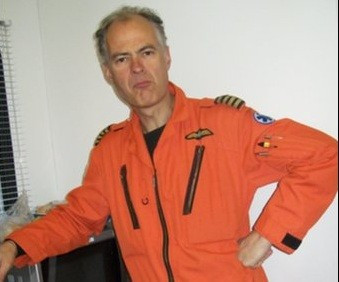 Veteran pilot Pete Barnes has been named as the pilot who was killed when his helicopter crashed into a crane during the central London rush-hour.
Captain Barnes died when the helicopter he was piloting plunged more than 180 metres to the ground and exploded in flames near the River Thames.
One other person died in the inferno, in which 12 others suffered injuries.
Barnes had been flying helicoptors since gaining a licence in Florida in 1989. He had worked with some of the biggest names in media, including Sky News and the BBC.
Just last summer, Barnes flew for contractors during the London Olympic Games and previously worked on the James Bond film, Die Another Day. Celebrities also hitched helicopter rides in the capital city and it was reported Barnes was well liked.
Captain Barnes was flying the Agusta 109 craft from Redhill in Surrey to Elstree in Hertfordshire when he died.
Minutes before the disaster, he radioed control at the London Heliport, in Battersea, asking permission to land there. Poor visibility had reportedly made landing in Elstree impossible.
Barnes was killed after he changed course and made for the Helipad, which is located nearby to St George's Wharf Tower.
Click here to see inside the luxury tower block for millionaires at heart of helicopter tragedy.
In foggy conditions, his aircraft ploughed into a crane attached to the luxury 50 floor building, which is currently under construction.
Bystanders reported fleeing flames and falling debris in terror.
Questions were raised in the aftermath of the crash about whether he had seen two navigation lights on the crane, designed to prevent the tragic events which happened.
A resident living near the crash site told IBTimes UK he had reported to the authorities fears that the navigation lights were insufficently bright.
Developer Barclays told IBTimes UK that both lights were working at the time of the crash and were checked the previous evening.