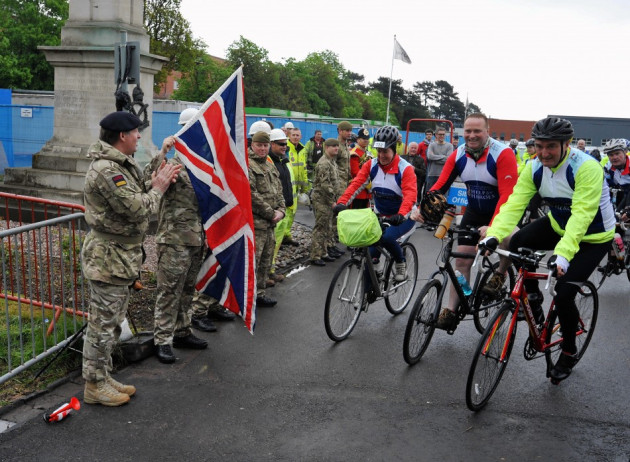 Wounded war veterans and servicemen from around the world led an estimated 1,500 cyclists on a 10-mile bike ride through central London in aid of the charity Help for Heroes on Sunday 2 June, paying tribute to the soldier Lee Rigby, who was killed in Woolwich three weeks ago.
The fundraising ride was joined by 300 participants who had set off from Paris five days ago, cycling 350 miles through the battlefields of the First and Second World Wars to the finish line at Horse Guards Parade.
Among those involved were the ride's patron, cycling champion Mark Cavendish, and singer James Blunt, who served in the Army for six years.
Blunt said he was "honoured to take part" in the ride, which aims to raise £1million for the charity.
Drummer Rigby was murdered outside Woolwich barracks while wearing a T-shirt promoting the charity. The ride had been organised before his death, but took on added significance following his killing, and greatly boosted the numbers turning out in support.
Help for Heroes co-founder Bryn Parry said: "We've done a bike ride every year since we started in 2007. But the poignancy of Lee's death, the fact he was wearing one of our shirts, the number of people who have volunteered to support us. It's brought it home to people to have a death on our own streets."
Parry added: "For me, the incredible sight at the front is all our soldiers who have been injured, who have lost limbs, there are guys who have lost one leg, double amputees, some with both legs missing and an arm missing and still here, on hand-bikes even.
"Some have come from Paris or from Edinburgh, and they're the fittest and the strongest among us. And I think I'm totally inspired by them, they have the biggest smiles, they have the greatest, positive outlook on life.
"They have had great support from Help for Heroes, which itself has had amazing support from Joe Public out there, who have said, come on, we want to get behind and say thank you to these guys!"
Camilla, Duchess of Cornwall, had paid tribute to the riders, who included British, US and Canadian servicemen, women and war veterans, during a visit to Paris last week.
Recent work by the charity have included opening recovery centres for wounded servicemen at Tidworth in Wiltshire, Catterick in North Yorkshire, Plymouth in Devon and Colchester in Essex.
Speaking before the ride, Cavendish said: "I have seen first-hand the great work that Help For Heores does. I'm a passionate supporter of the charity. Hero Ride is a very special project to me because it engages the sport I love for a greater cause."