Here are 13 divisive Russia-bought Facebook ads that aimed to influence the 2016 US election
Facebook, Twitter and Google are being grilled by Congress over the role each platform played in Russia's influence campaign during the election.
US lawmakers have released a batch of politically divisive Russian-linked Facebook and Instagram ads on Wednesday (1 November) that were bought by inauthentic accounts to influence opinion and sow discord in the US during the 2016 election. The House Intelligence Committee did not release the full trove of 3,000 ads that were handed over to Congress by Facebook last month.
Facebook, Twitter and Google are being grilled by Congress this week over the role each platform played in Russia's influence and misinformation campaign in the months leading up to the 2016 presidential election. Facebook revealed that an estimated 150 million people may have been exposed to the Russian-bought ads after it initially said the content appeared before about 126 million people.
Twitter said it found 2,752 accounts linked to Russian operatives, up from the initial 201 accounts it said were connected to the Facebook ads.
The wide-ranging sample of Facebook ads seemed to cover a range of topics including immigration, Islamaphobia, LGBTQ rights, race relations, police brutality and gun control. Some ads focused specifically on the election and criticised Democratic candidate Hillary Clinton.
One pro-Trump ad, for example, called for the removal of Clinton from the presidential ballot while another page called "Blacktivist" claimed the US government disbanded the revolutionary black nationalist group Black Panthers "because they were black men and women standing up for justice and equality."
Here are some of the Russian-linked social media posts that were released by lawmakers:
Stop AI
A Facebook account called Stop AI or, "Stop All Invaders" posted a number of anti-Muslim ads including one that called for Sharia law to be "kicked out of America." One post featured a photo of Muslim wearing traditional black burqas and niqabs and called for the ban of "all face covering" across the US.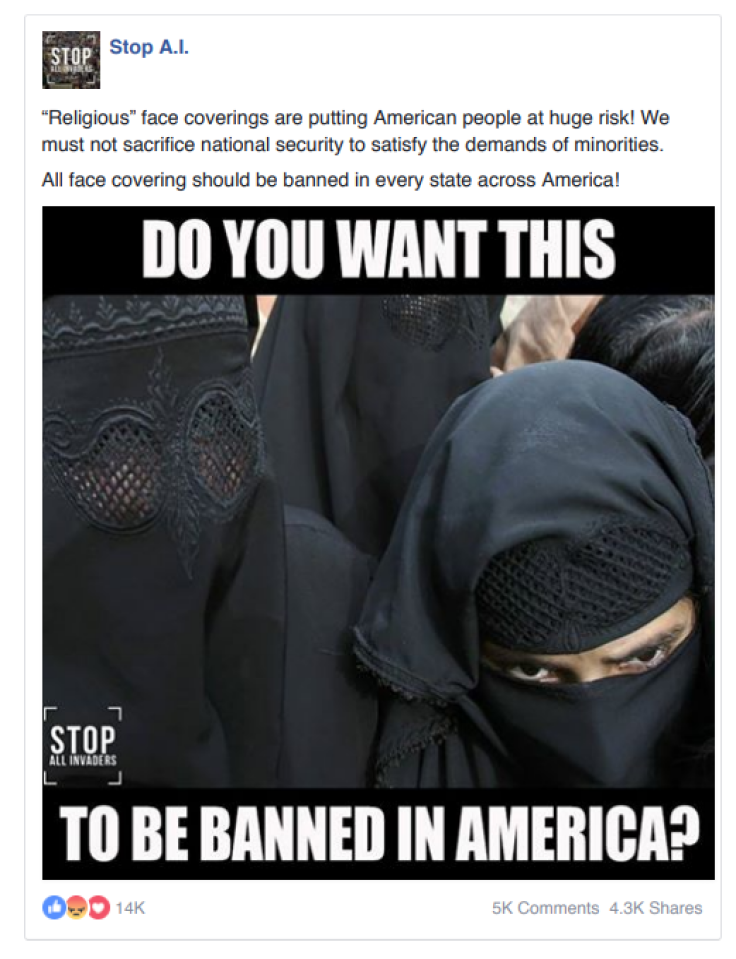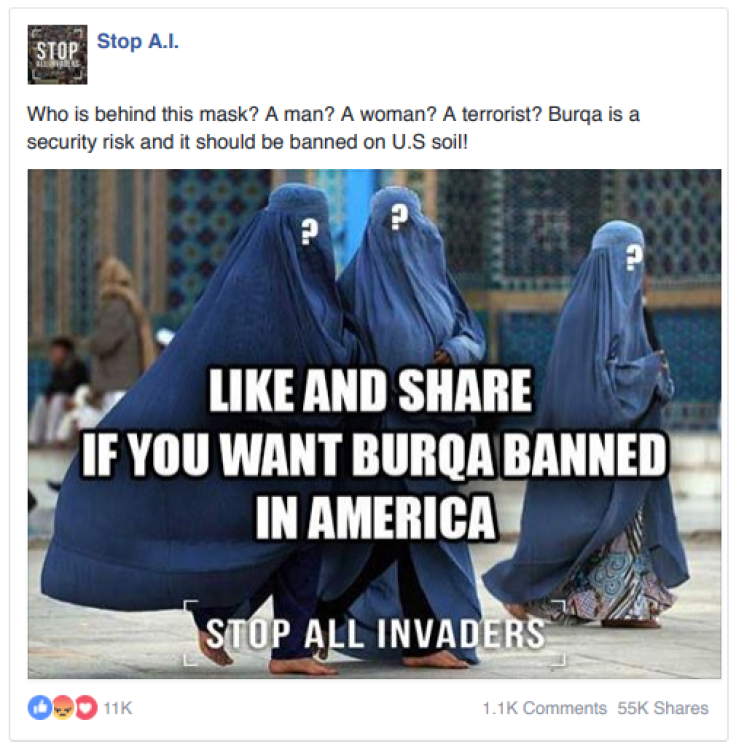 Being Patriotic
An account named "Being Patriotic" promoted a sponsored Facebook event called "Down With Hillary" that took place on 23 July in New York City last year and slammed Clinton for being "the co-author of Obama's anti-police and anti-Constitutional propaganda."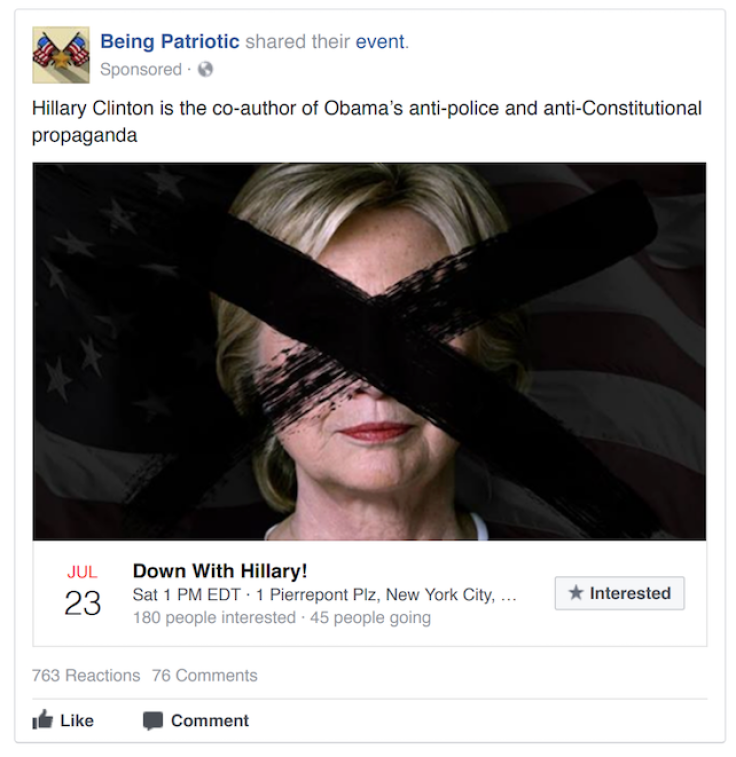 Army of Jesus
One post from an account called "Army of Jesus" said that Clinton was supported by evil forces and her "crimes and lies had proved just how evil she is."
"Even though Donald Trump isn't a saint by any means, he's at least an honest man and he cares deeply for this country. My vote goes for him," the post read. The posts included photos that pitted Clinton or Satan in a fight with Jesus.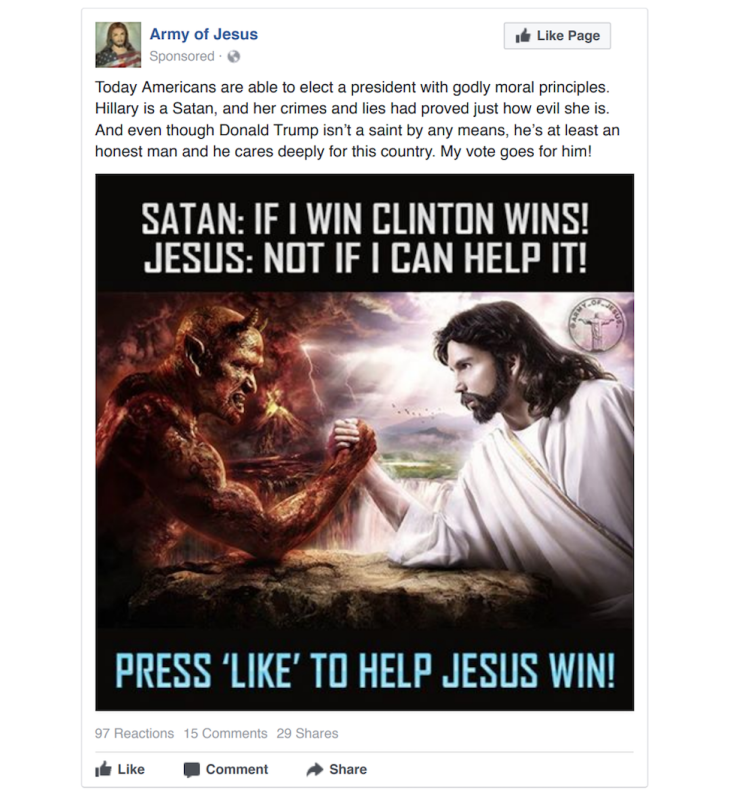 Inflaming race relations in the US
Multiple fake accounts such as "Being Patriotic", "Blacktivist" and "Black Matters" were designed to inflame racial tensions in the US.
The Black Matters account, which appeared to support the Black Lives Matter movement, sponsored posts featuring photos of young African-American men killed by police or who were killed in police custody.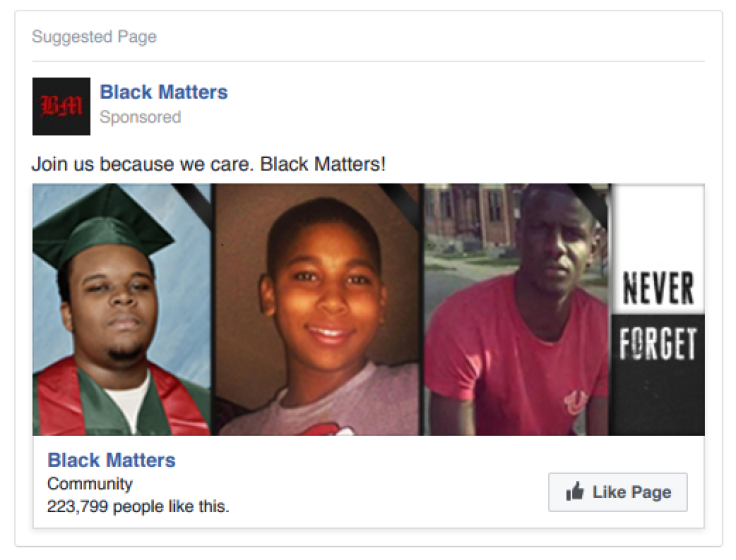 A post on the Blacktivist page read: "Never forget that the Black Panthers, group formed to protect black people from the KKK, was dismantled by us govt but the KKK exists today."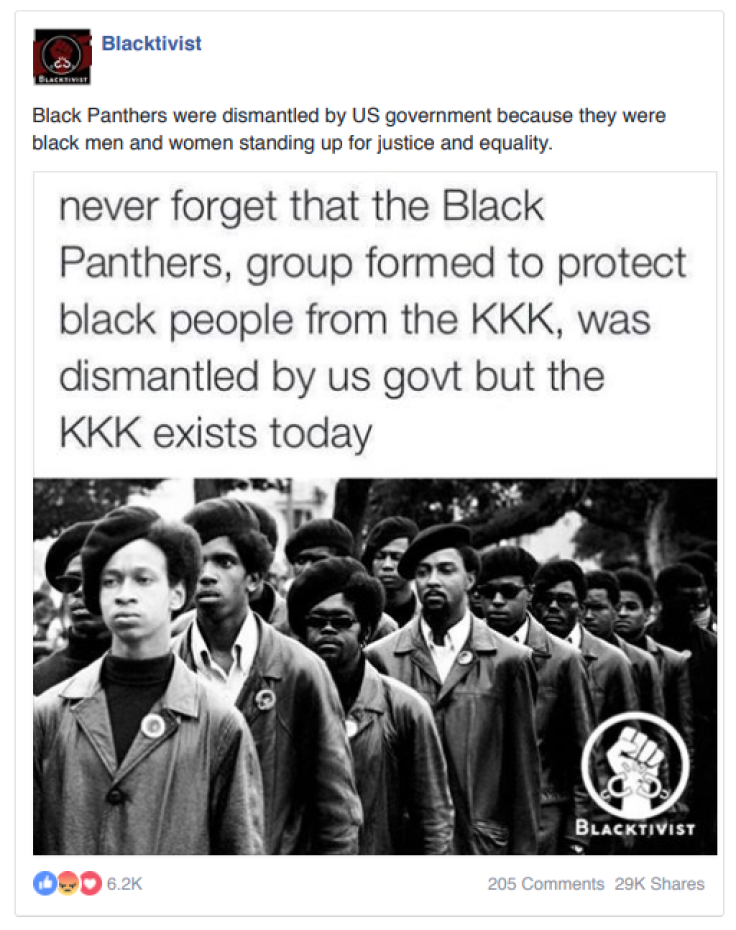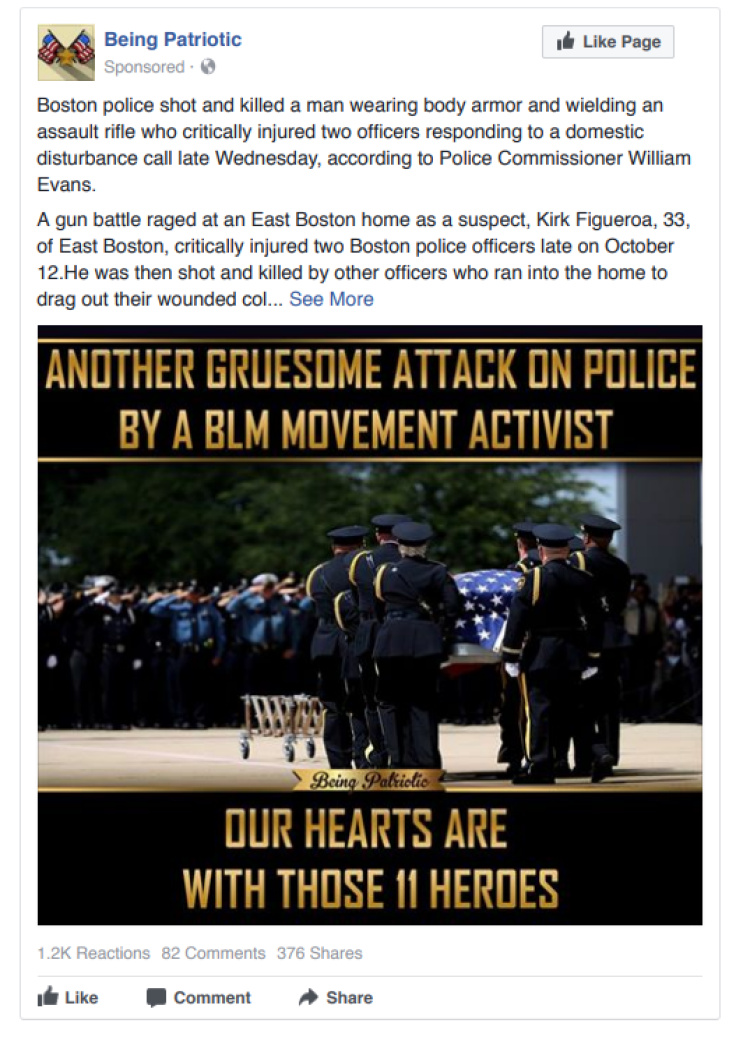 Fake LGBT rights groups
A fake group called LGBT United promoted a pro-Bernie Sanders colouring book called "Buff Bernie: A colouring book for Berniacs" that featured the Democratic presidential candidate in muscle-poses. It claimed the author was hoping to stop people from "taking this whole thing too serious."
It also advertised a Westboro Baptist Church counter-protest as well. According to metadata disclosed, the ad was paid for at the price of $3,136 rubles and was targeted towards users in Kansas who were interested in Hillary Clinton, Bernie Sanders and LGBT issues. The ad gained about 4,800 impressions.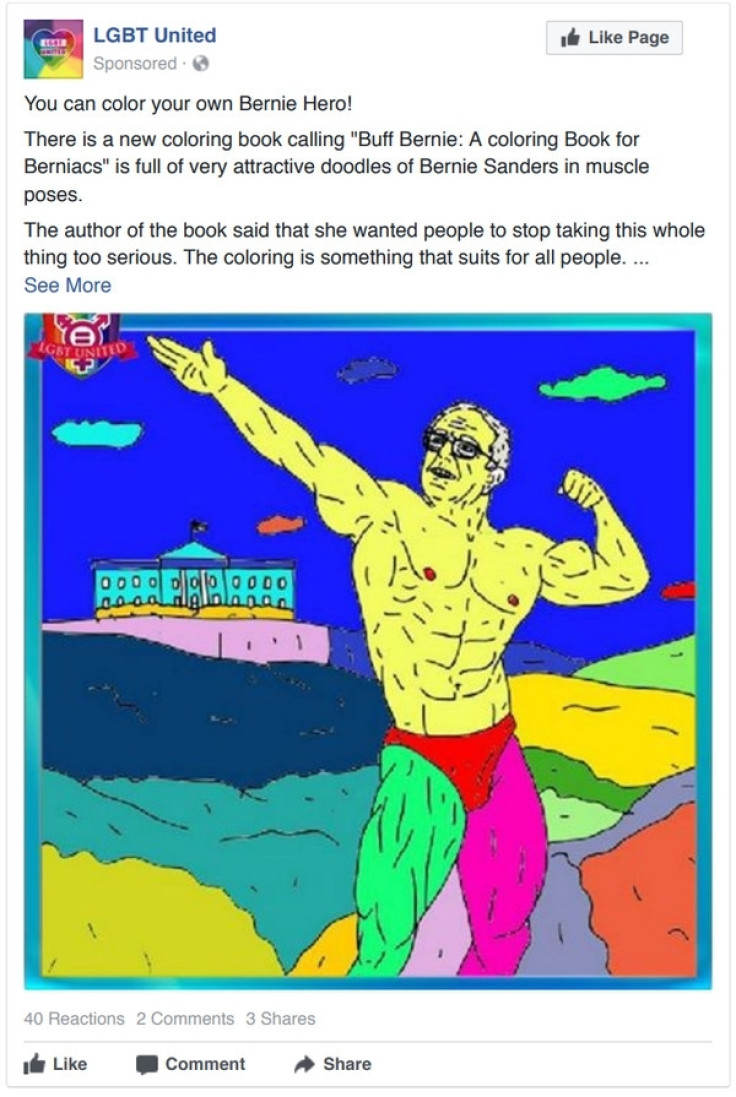 Heart of Texas
A group named "Heart of Texas" claimed that a border control agents in South Texas arrested an illegal alien from Honduras that had been previously deported and convicted of "rape second degree."
"Thanks to Obama's and Hillary's policy, illegals come here because they wait for amnesty promised. The wrong course has been chose by the American government, but all those politicians are too far from the border to see who actually sneaks through it illegally."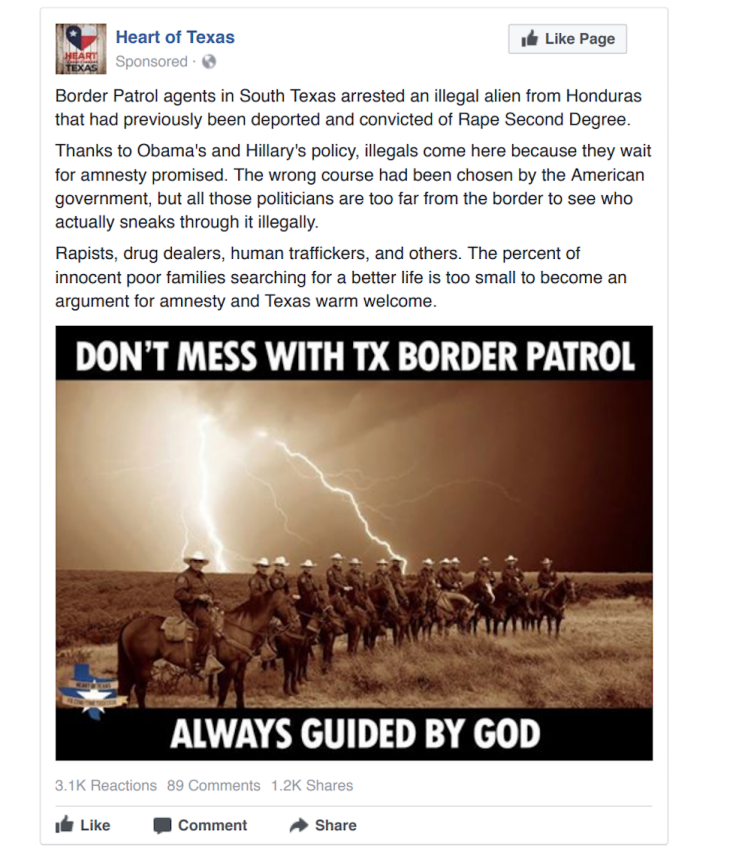 Russian-linked Instagram accounts
An Instagram account called "_american.made" sponsored ads that were targeted towards Trump supporters. Other ads called for defending the 2nd Amendment.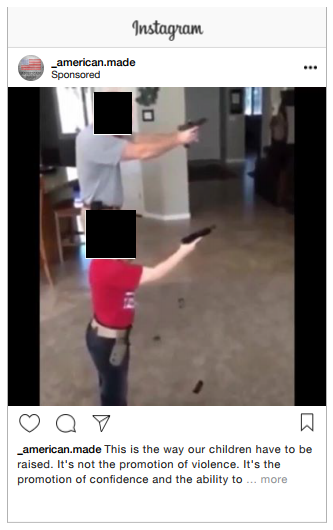 An account called "Defend the 2nd" that was promoted on Facebook as a "community of 2nd Amendment supporters, guns lovers & patriots" garnered over 96,000 followers, according to a snapshot released by the House Intelligence Committee.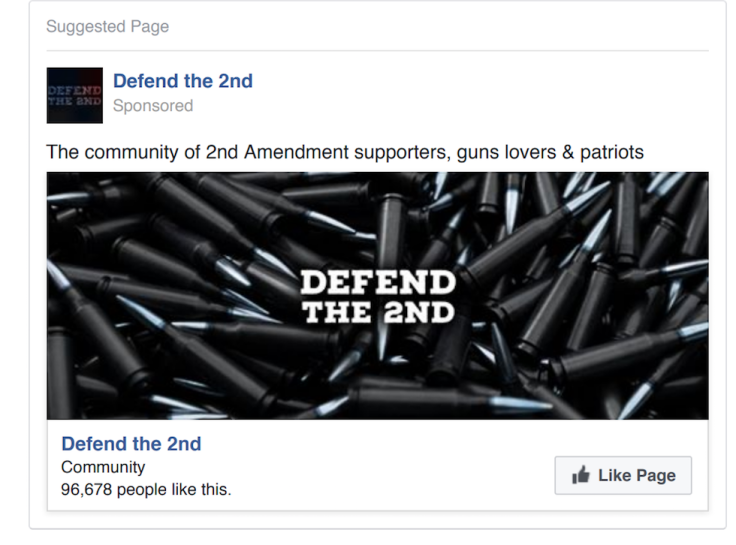 US lawmakers also released a 65-page list of Russian-linked Twitter handles as well. They also slammed Facebook, Google and Twitter during hearings over how they responded to Russian operatives using their platforms to influence the election.
"It is self-evident that in the past election you failed," Senator Ron Wyden said. "You need to stop paying lip service to bad actors shutting down these accounts."