A new Apple patent published today by the US Patent and Trademark Office (USPTO) has hinted at possible features of the company's long-awaited smartwatch, including hybrid functionality.
The Wrist-worn electronic device and methods therefor patent confirms much of the speculation that has so far surrounded the device, as well as describing previously unknown capabilities like advanced proximity-sensing circuitry, an electronic strap, haptic feedback and support for arm and wrist gestures.
The smartwatch - labelled as "iTime" in one of the illustrations but more commonly referred to as the iWatch - could potentially be a convertible device that can switch from a fitness band to a portable media player.
"In one embodiment, the electronic device can be a mobile electronic device that can be removably coupled to the electronic wristband which provides the additional circuitry or devices," the patent reads.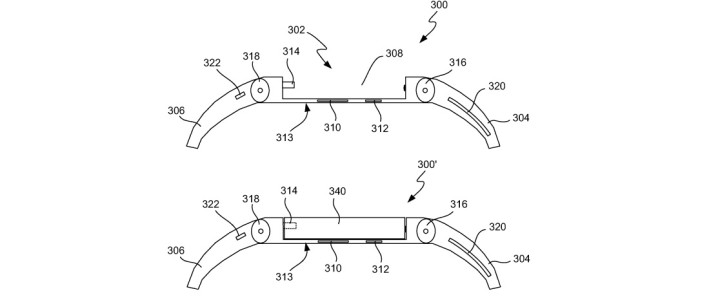 "Advantageously, the electronic device can utilise the additional electrical circuitry or devices provided within the electronic wristband to augment the capabilities of the electronic device."
The patent mentions that the strap itself would feature an accelerometer, a GPS module and haptic feedback mechanisms, while a square shaped dock would allow for the insertion of the media player to transform it into a smartwatch.
Three iWatches in 2014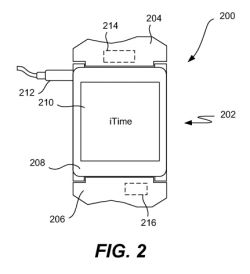 Apple is expected to launch a 1.6in iWatch and two versions of a 1.8in model between September and December this year.
Reports in Taiwan's Economic Daily suggested that the 1.8in model would come in a standard and premium version.
Analyst Ming-Chi Kuo has speculated that the launch time is likely to be closer to the end of the year due to setbacks in Apple's production plans.
"We have pushed back our estimated time of iWatch mass production from late September to mid-to-late November," Kuo said in a leaked report. "We also lower our forecast of iWatch 2014 shipments by 40% to 3m units."
War of the wearables
Most of the major tech firms appear to be positioning themselves for a widely-anticipated boom in demand for wearable technology.
Apple is already facing competition from smartwatches running on Google's Android Wear mobile operating system, with offerings from Samsung, Motorola and LG all shown off at Google's annual developer conference last month.
Meanwhile Microsoft is reportedly preparing for the launch of its own sensor-laden smartwatch later this year.
A source close to the matter recently revealed to IBTimes UK that Microsoft's smartwatch is expected to feature a blood-glucose monitor and a UV sensor.