This is the moment a slacklining expert sprung into action to save his friend's life after his backpack became tangled in a ski lift.
Mickey Wilson, 28, a professional slackliner and part time ski instructor at Arapahoe Basin in the Rocky Mountains, told IBTimes UK he has been slack lining (balancing on a rope above that ground that is not taut) seriously since 2009.
He wrote on Facebook: "One of our crew got his backpack strap stuck in the chairlift as he tried to unload and the lift dragged him back down the hill. We were on the chair lift behind so we unloaded and ran down the hill to help him when we realized the worst possible thing had happened.
"The backpack had wrapped around his neck and he was unconscious, dangling 10 feet above the snow."
Wilson said he and his friends initially tried to help the man by building a human pyramid to try and reach him, before he realised his slack lining experience meant he could climb the cable to rescue his friend before he choked to death.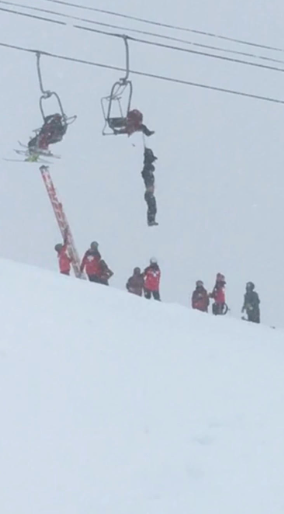 He explained: "Panic was becoming terror as we realized we were about to watch our friend die in front of our helpless eyes. Then I had a eureka moment. I realized I could climb the lift tower above the chair and climb onto the cable and shimmy down to him.
"I knew my slackline experience prepared me perfectly for this so I burst into action. I climbed the tower and slid down to the chair. It was second nature, just like being on a slackline only way colder and made of steel.
"I climbed down the chair and I first tried to break the strap by kicking it but I couldn't. A newly arrived ski patrolman threw me a knife and I luckily caught it on the first try and cut the strap."
The man fell into the snow and immediately ski patrol began performing CPR, which restarted his breathing, and got him into an ambulance.
After receiving hospital treatment, the man is expected to make a full recovery, thanks to his friend Wilson's heroic rescue.
"I'd like to take this moment now to thank the slacklife for the skills it has given me. It was incredibly fortunate I was there and able to act quickly. I'd also like to thank ski patrol for their strong work reviving our friend," Wilson added.
"I just got an update from the hospital and he's doing quite well and will be released tomorrow."