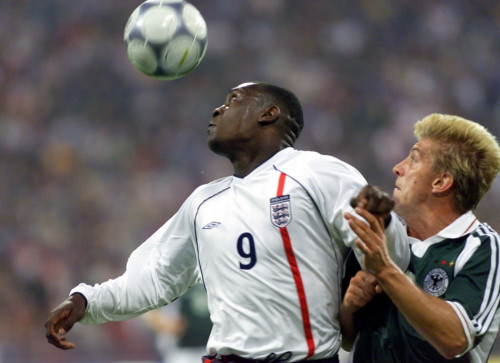 Former Liverpool striker Emile Heskey believes that the Reds are capable and possess the ability to lift the Premier League title this season.
The 36-year-old claims that Brendan Rodgers has the quality and firepower at his disposal for guiding the Merseyside club to win their first league title since 1990.
The Northern Irishman had ruled his side out of the title race opining that they do not have the depth which rivals Manchester City and Chelsea boast in their squad.
"I think they can do something special. I see the manager has ruled them out of winning the title this year but they can push them right to the wire and show their intent in this game [against Arsenal]," Heskey told talkSPORT.
"He's playing it down but if you go team by team I think Liverpool have got one of the strongest teams out there and with the likes of [Luis] Suarez and [Daniel] Sturridge up front you've always got an opportunity," he added.
Anfield is all set to host an exciting clash between the home side and league leaders Arsenal for the weekend league fixture on Saturday. The Reds are currently eight points behind the Gunners and sit fourth with 47 points having played 24 matches.
However, Heskey has reiterated his faith in his former employers and considers them to push for the top spot by emerging victorious against the north London club. The former Reds's striker also expects his Liverpool to be in the running for the title in the next season as well.
"They can stamp their authority and show they have got a chance of not only doing something good this season but next season as well," he concluded.
Liverpool legend Robbie Fowler had earlier expressed the same opinion as the club's 41-year-old manager, ruling his former club out of the title race while stating that the Reds have made a significant impact this season to finish in the top four.
They are also yet to play City and Chelsea at home in the league which could prove to be the turning point for all the clubs involved in the title quest.
Rodgers's expectations of a top four finish rely heavily on the club's stellar strikers Suarez and Sturridge, who have fired 37 goals (23 and 14 respectively) in the league this campaign.