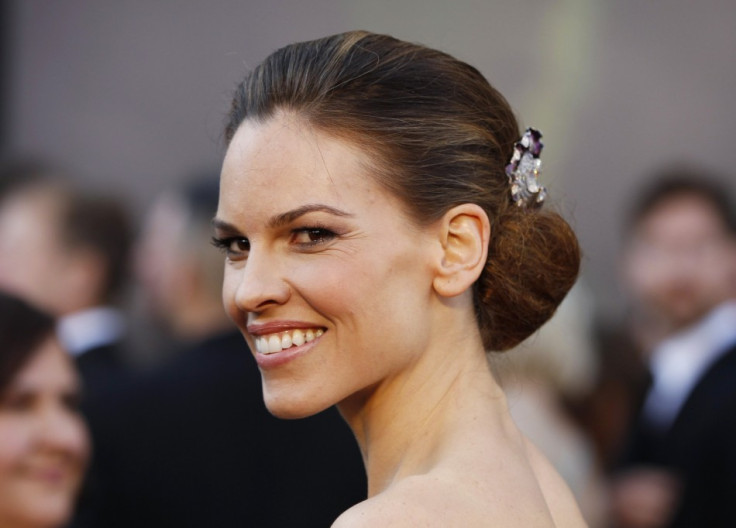 Hollywood actress Hilary Swank has said she regrets her decision to accept a six-figure sum to appear at the 35th birthday celebrations of Chechnya's autocratic dictator, Ramzan Kadyrov.
The 37-year-old actress addressed the issue for the first time since the scandal erupted during an interview on The Tonight Show over the weekend and made a public apology, claiming that she failed to research the situation thoroughly in advance.
The Oscar-winning actress found herself at the centre of a human rights scandal in October this year when YouTube footage surfaced showing her standing on a stage in central Grozny, smiling at the dictator and declaring: "Happy Birthday, Mr President!"
She sparked fury after attending the lavish celebration alongside actor Jean-Claude Van Damme and violinist Vanessa-Mae, with the Human Rights Foundation claiming that her appearance at the controversial bash was almost as bad as supporting an apartheid regime.
The organisation Human Rights Watch also criticised her for legitimising a leader who has been accused of numerous human rights abuses.
Talking to chat show host Jay Leno, Swank said: "The thing is, human rights organisations had reached out to warn me before I went, but I did not get those warnings."
"Shame on me," the actress said. "The bottom line is that I should know where I'm going and do better research. I can guarantee that I won't go anywhere ever again without doing full research."
The New Year's Eve star explained that she was unaware the event would prove to be so controversial and had "never heard" of Mr Kadyrov's track record beforehand.
She revealed that her fee was paid by a Turkish construction company, which claimed the bash would "celebrate peace" in the previously war-torn country.
Swank has pledged to donate her appearance fee to charity.