Democrat presidential candidate Hillary Clinton has been diagnosed with pneumonia by her doctor, and she will not be travelling to California as planned for campaigning on on Monday and Tuesday.
The former secretary of state was shown being helped into her car by her aides following the 9/11 memorial service in downtown Manhattan on Sunday (11 September).
In a statement, Dr Lisa R Bardack said: "Secretary Clinton has been experiencing a cough related to allergies. On Friday, during follow-up evaluation of her prolonged cough, she was diagnosed with pneumonia. She was put on antibiotics, and advised to rest and modify her schedule."
The doctor continued in the statement: "While at this morning's event, she became overheated and dehydrated. I have just examined her and she is now re-hydrated and recovering nicely."
On Sunday morning, Clinton left a memorial ceremony commemorating the 15th anniversary of the 9/11 attacks earlier than expected, while a video clip showed the nominee appearing to faint as she made her way back to her vehicle, an unidentified law enforcement source told Fox News.
Fox News quoted a witness as saying that Clinton's knees buckled and that she had lost a shoe during her unexpected early departure.
Nick Merill, Clinton's spokesperson said in a statement that the presidential candidate "felt overheated and so departed to go to her daughter's apartment, and is feeling much better."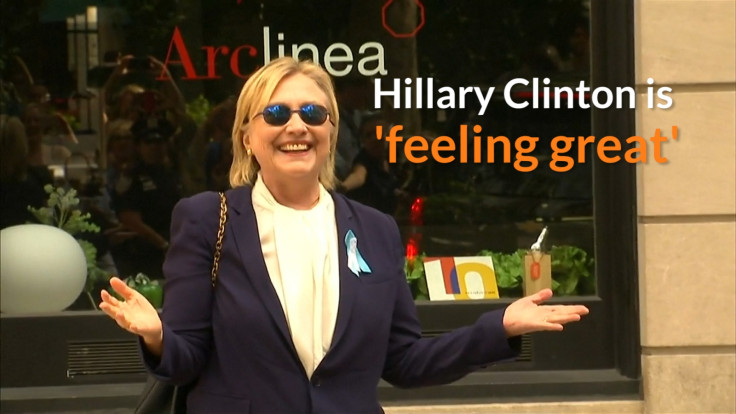 Later on, leaving her daughter's apartment, Clinton was shown waving to onlookers and telling reporters: "I'm feeling great. It's a beautiful day in New York." She headed back home in Chappaqua in New York state, where she was examined by Dr Bardack, her campaign said according to The Guardian.
Bardack is the chair of internal medicine at the Mount Kisco Medical Group in New York. She has been Clinton's personal doctor since 2001. In a note released last summer, Dr Bardack said that Clinton was "in excellent physical condition and fit to serve as president of the United States."
Clinton's health has seemingly slowed down her presidential campaign, following a 2012 incident in which she fell, which was blamed on a stomach virus. The fall resulted in a concussion and a subsequent blood clot in the brain, which tests later showed were cleared.
Her rival to the presidential post, Republican nominee Donald Trump, has been claiming that her health has been declining and that she lacked the stamina to lead the country. Clinton is 68 years old while Trump is two years older.