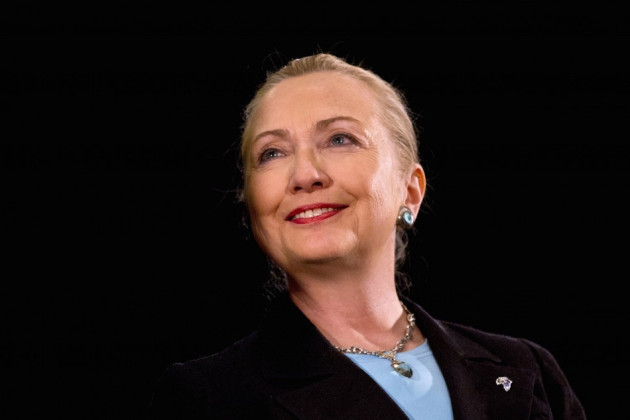 Hints that Hillary Clinton might be running for US president in 2016 are piling up.
At the end of her stint as secretary of state in February, Clinton, 66, took a temporary break from public life amid concerns over her health after a blood clot was discovered near her brain.
She has re-emerged and embarked on a series of activities that seem to open the way for a second presidential bid - a possibility Clinton has neither confirmed nor ruled out.
At the Vital Voices Global Leadership Awards in Washington, she advocated women's rights in her first public speech since February.
She was followed on stage by vice-president and potential 2016 Democratic challenger Joe Biden, who told the 2,000-strong audience: "There's no woman like Hillary Clinton."
Clinton earlier won applause for support gay marriage.
Meanwhile publisher Simon & Schuster has announced that the former first lady is writing a memoir and policy book about her years in the Obama administration.
The book is due to hit bookshop shelves by summer 2014 - in time for the midterm elections - when a promotional tour could easily blend with Democratic efforts work to recapture the republican-held House of Representatives.
"[She] will share her views as to what it takes for the United States to secure and sustain prosperity and global leadership. Throughout, Secretary Clinton will offer vivid personal anecdotes and memories of her collaboration with President Obama and his national security team, as well as her engagement with leaders around the world," said Simon & Schuster.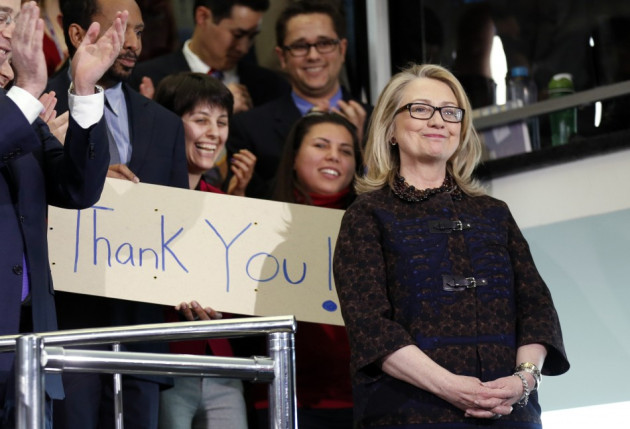 Ready for Hillary
According to a Washington Post-ABC News poll, Clinton has never been so popular in her 22 years in politics. The poll found that 67 percent of Americans held a favourable view of her.
"It's hard to overstate the breadth and depth of enthusiasm for a Hillary run," said Doug Hattaway, a former Clinton campaign aide.
"A lot of donors, volunteers and potential campaign workers will wait to hear what she decides before committing to other candidates," he said. "Anyone with their eye on 2016 is already working on it."
In addition, a group of Hillary enthusiasts has started up a so-called super PAC (political action committee) to back her candidacy.
The Ready for Hillary PAC has been gaining more than 1,000 supporters a day since its launch, organisers said.
"We are going to keep up the energy and excitement surrounding her potential candidacy. We need to start building an extensive field programme - getting neighbours talking to neighbours, organising on college campuses, and putting together the winning team of supporters that will help Hillary win in 2016," PAC chairwoman Allida Black said.
"Let's send a resounding message that America is ready for Hillary."
"There hasn't been a presidential election in my lifetime when Democrats have been as united behind a potential candidate as we are today. The enthusiasm and hunger for a Hillary Clinton presidency is unlike anything I've ever seen," political consultant James Carville wrote.
"But it isn't worth squat to have the fastest car at the racetrack if there ain't any gas in the tank - and that's why the work that Ready for Hillary PAC is doing is absolutely critical. We need to convert the hunger that's out there for Hillary's candidacy into a real grassroots organszation.
"We owe it to Hillary to start putting the building blocks of her campaign together now," said Carville. "The modern political campaign demands it."