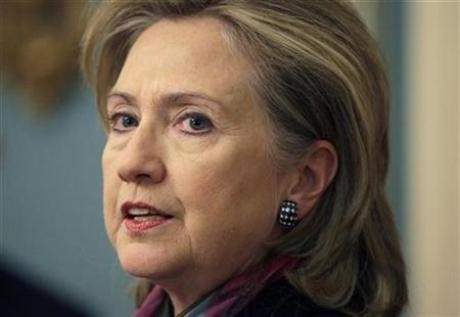 Commenting on Pakistan last Friday Secretary of State Hillary Clinton warned that the country had failed to grasp just how much more it must do to quash Islamist militancy. Today, Mrs Clinton arrived in Islamabad, a visit that was unannounced and came amid intensifying speculation about the status of the relationship between the U.S. and Tripoli since the killing of Osama bin Laden.
Clinton and U.S. Joint Chiefs of Staff Admiral Mike Mullen were due to meet President Asif Ali Zardari as well as Army Chief General Ashfaq Kayani and the head of the ISI spy agency, Lieutenant-General Ahmad Shuja Pasha.
While both countries had previously publicly insisted on their productive and fruitful cooperation, the U.S. led operation that led to the killing of Osama bin Laden in a garrison town just 30 miles away from the capital, Islamabad, on May 2 raised fresh doubts about Pakistan's reliability as a partner in the U.S.-led war on militancy.
On the other hand, Pakistani authorities were left with a bruised ego and warned the U.S. that another unilateral operation could bring their cooperation to a halt.
Washington however stands firm and defiant as President Obama reiterated in an interview to the BBC last week-end that as much as he respected the sovereignty Pakistan, he would be ready to do it all over again if another high profile Al-Qaeda leader was discovered on the county's soil.
"They have cooperated; we have always wanted more," a U.S. official told reporters traveling on Clinton's plane ahead of the surprise visit, before adding "They have actually, from their perspective, done a lot. What they have never really grasped is how much more they have to do in order to protect themselves and, from our point of view, protect our interests and assist us in ways that are going to facilitate our transition in Afghanistan ."
However is it really a case of Pakistanis authorities not understanding what they need to do to protect themselves and other or rather is it their inability to do so?
Throughout the years, Pakistan has had to face recurrent political and economic crises as well as assassinations of political leaders. The fact that Pakistani's institutions have been on the brink of collapse for decades is not a secret, especially following the Wikileaks disclosure of US diplomatic correspondence and confidential assessments in 2010.
In sharp contrast to frequent public declarations of faith in Pakistan's capacities to overcome its rising crises, one leaked diplomatic post thus reads, "Although we do not believe Pakistan is a failed state, we nonetheless recognize that the challenges it confronts are dire... The government is losing more and more territory every day to foreign and domestic militant groups; deteriorating law and order in turn is undermining economic recovery. The bureaucracy is settling into third-world mediocrity, as demonstrated by some corruption and a limited capacity to implement or articulate policy."
Unfortunately, numbers seem to confirm the leaks as with more than one suicide bombing every week, an estimated 35,000 Pakistanis have died since 9/11.
Moreover the country is still prone to internal conflicts, making it all the more difficult for the government to control its territory. The province of Balochistan is a good example as a nationalist insurgency that shows no sign of going away has affected the region for more than five years.
Karachi, the country's largest city, is also in a precarious state, as tensions and criminality are running high; an estimated average of 4.7 murders every night. Worryingly those murders are said to mostly be politically motivated killings.
Yet, despite all those problems to overcome the state has not yet collapsed and has rather proved remarkably resilient, causing academics to debate whether the country is in fact more stable than many people think.
However cables, provided by WikiLeaks to Dawn newspaper, disclose there was tension between Pakistan's civilian government and the powerful army over the use of funds provided for counter-insurgency operations.
According to one cable, then Finance Minister Shaukat Tarin asked former U.S. Ambassador Anne Patterson during a November 2009 meeting "to keep him informed of funds the U.S. directs to the Pakistani military".
Tarin said he would not reduce the military's budget based on US assistance flows but made it clear that his ministry "needs to be kept aware for overall budgeting purposes" before complaining to the U.S. envoy that army chief Gen Ashfaq Parvez Kayani "does not pass on this information".
So is Pakistan a fragile state on the brink of collapse, or are weaknesses used as a façade? What in all of this seems the most questionable is why the U.S. would give money directly to the army without consulting the government in a country where military coups are not unusual?