In April 1989, just like April 2015, Liverpool were preparing for an FA Cup semi-final, one they were expected to win. But whereas the star of the current team is a creative midfielder from Brazil, the spearhead of the '89 team was a far more recognisable character for Anfield fans.
John Aldridge, a salt-of-the-earth lad from the south side of Liverpool, was realising the fantasies of his home city. Brought up supporting Liverpool on the Kop, Aldridge was now the darling of that very same terrace. He was the lethal focal point of Kenny Dalglish's great side, feeding rapaciously on the brilliance of Peter Beardsley and John Barnes. In April 1989 he was in peak form, entering the business end of a season which would eventually yield 31 goals in just 57 games.
Aldridge had taken Liverpool to Wembley a year earlier by scoring the decisive goal in the semi-final, volleying home a Barnes cross. The opponents that day were Nottingham Forest, the venue Hillsborough; Aldridge's goal was greeted with euphoria among the Liverpool fans on Leppings Lane.
The 1989 semi-final appeared to be a carbon copy of that copacetic day, in pretty much every respect. Even the sky was the same azure, cloudless blue. And just as the 1988 semi-final had been well-policed, with no danger or disorder in the crowd, so it seemed the sequel would pass off without incident.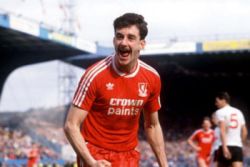 Aldridge recalls: "We got to the ground as normal, an hour and a quarter before kick-off or thereabouts, and there was no sign of trouble. It was just normal everyday procedure. Even when we warmed up, there was no trouble whatsoever."
When the match began Liverpool were kicking towards the Forest end, and so Aldridge, as a centre-forward, was closer to the opposition fans than his own supporters, some of whom were now beginning to lose consciousness in the Leppings Lane vice.
The television cameras picked out fans clambering up into the upper tier of the stand and some of those present now recall a strange sound being emitted from the central pens behind Liverpool's goal; journalist Brian Reade has described it as akin to a "muffled argument". Yet Aldridge's sole focus was on the field.
"When the match kicked off it was end-to-end. We didn't have a clue, we were just focused on the pitch, we didn't hear anything at all. There was no particular sound coming from the crowd, not that I could tell, none of the players remarked on it during the game.
"Then the fans started spilling onto the pitch, and the referee told us to come off. We assumed a crush barrier had crashed – in those days that sort of thing happened quite a lot.
"Then, after 20-25 minutes, Kenny went out to speak to [then-Forest manager] Brian Clough and the referee, and when he came back he told us 'get changed lads, we're leaving. There's been fatalities.' Around this time supporters began coming into our dressing room and gathering in the tunnel outside, telling us of the deaths.
"As a player, I had tickets for the stand, so my family wasn't on the Leppings Lane terrace, I knew they were safe. But still it was a shock, a total blur."
On the journey home, the shock gave way to numbness among players and fans alike, as the reality of the situation dawned. News crews provided regular updates on what had unfolded, each one, it seemed, reporting a higher number of fatalities.
In the days and weeks after the tragedy, Aldridge and his teammates took on the role of counsellors, a role for which, as footballers, they were totally unprepared.
"We had to go to funerals, which was very hard," Aldridge recalls. "I think I went to 11 or 12 funerals. Sisters, brothers, a dad and son amongst them. We counselled families – it wasn't a case of going to Anfield [where Liverpool had established a makeshift drop-in centre for the bereaved] but we made an effort to go out and visit them and, when we saw them, we tried to help out as best we could."
Aldridge also visited the local hospitals in an attempt to lighten the mood among supporters left critically ill by the Leppings Lane crush. On one occasion, he met a supporter who seemed visibly uplifted by his presence. The next time he visited, he was told the fan's life support machine had been turned off that morning.
Biggest game of my life
Emotionally shattered by his ordeal, Aldridge says "it wasn't for a while that I wanted to start playing football again." Eventually, however, he was asked to return to the field of play, with the rearranged semi-final with Forest at Old Trafford on 7 May – 22 days after the disaster.
Liverpool won 3-1, with Aldridge scoring the first two. However his contribution is best remembered in some quarters for his reaction to Liverpool's third, an own goal from Brian Laws. As the Forest defender lay slumped on the ground, Aldridge ruffled his hair, a gesture which drew sharp criticism from Brian Clough, who claimed in his autobiography that it was disrespectful and inappropriate, given what had gone before.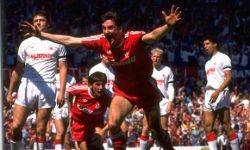 Even today, this criticism irks Aldridge, who says: "They didn't know the truth. The game was over, and I was consoling Laws.
"That was the biggest game of my life, we had to win that game for the people who'd died, and I knew when the own goal went in we'd won the game.
"It did look bad, but Brian Clough didn't have to go to 12 funerals. He should have looked at the facts. I spoke to him after he said those things and I think he understood my point of view."
Aldridge remains a Liverpool fan to this day, and regularly commentates on the club. Anyone who has heard his manic on-air celebrations when Liverpool won the Champions League understands his passion for the club, and the pleasure he still derives from their success.
Yet, even now, the memory of Hillsborough haunts him.
"Even now you think about it every day. Ninety six people, they went to watch a match and didn't come home. It'll never leave me."
This interview was kindly provided by www.5times.co.
You can get the chance to play against John Aldridge and a host of other legends including John Barnes, Robbie Fowler, Steve McManamanan, Patrick Berger, Vladimer Smicer and Jan Molby at Anfield on 16th May, all details are on www.5times.co/anfield
John Aldridge has also launched myfacevalue.co, a site which allows sports fans to trade tickets in a safe, open environment. You can find out more by clicking here.