Hindus celebrate several festivals in mid-January. Lohri is celebrated in Bengal and northern India on the 13th. Meanwhile, on 14 January, Hindus across India observe Makar Sankranti, while those in the south celebrate Thai Pongal.
Makar Sankranti symbolises the end of the winter solstice and the monsoon, and the beginning of the harvest season. The festival also pays respect to Saraswati, the goddess of knowledge. It is observed in many different ways around India and Nepal. In this gallery, we look at devotees preparing for Makar Sankranti festivities in two locations: Allahabad in Uttar Pradesh state, and Ganga Sagar (or Sagar Island) near Kolkata.
Devotees and sadhus (Hindu holy men) will mark the day by taking a dip at Ganga Sagar, the point where the River Ganges meets the Bay of Bengal.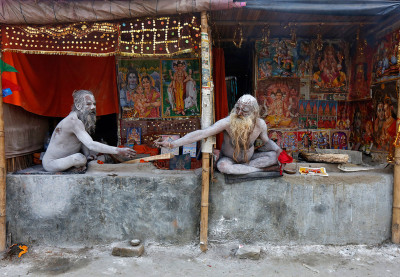 In Uttar Pradesh state, up to two million Hindus are expected to gather to bathe at Sangam, the confluence of the Rivers Ganges and Yamuna — and the invisible or mythical Saraswati River.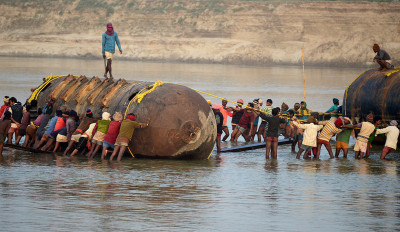 The festival of Lohri marks the beginning of the harvest festival in India's northern state of Punjab. Celebrated annually on 13 January, Lohri marks the end of the coldest month of the year, prompting people to celebrate as they offer thanks to the gods for the crops they are about to harvest. Many Hindus in northern India celebrate the festival with bonfire ceremonies and kites.