Lohri 2016: What is the 'harvest festival' and how are British Indians celebrating it?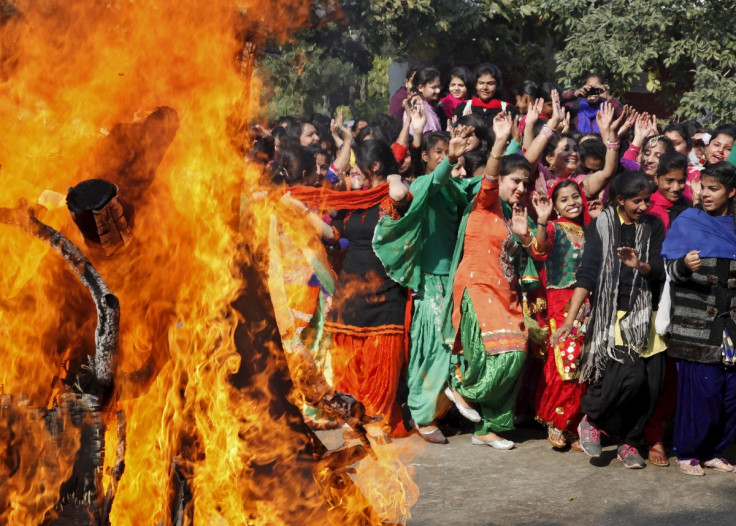 The festival of Lohri marks the beginning of the harvest festival in India's northern state of Punjab. Celebrated annually on 13 January, Lohri marks the end of the coldest month of the year, prompting people to celebrate as they offer thanks to the gods for the crops they are about to harvest.
Lohri is said to be the longest night of the year for Punjab and sees communities come together to build a large bonfire after sunset. The bonfire is believed to symbolise Agni, the god of fire, and people gather around it to sing songs and throw small foodstuffs into the flames. Puffed rice, popcorn, sesame seeds, peanuts and sugar cane are among those snacks that are thrown into the fire to appease the gods and ask them for their blessing ahead of the harvest season.
Apart from marking the end of the winter, Lohri is also believed to be held on the shortest day and longest night of the year in Punjab. The day after Lohri, Maghi Sangrand, is then celebrated by Punjabi farmers as the start of longer days and the beginning of spring.
As with most Indian festivals, the food plays a major role. Aside from the offering of small snacks to the fire gods, sesame seeds, sugar cane and sweets are also offered as a celebration snack. For the main course, traditional Punjabi dishes sarson da saag (spinach) and makki di roti (flatbread) are feasted on. The food is meant to provide energy for the months ahead.
The UK's vibrant Punjabi community will also be celebrating the festival this year, with Lohri trending in London on Twitter on the day of the festival. With Lohri is observed as a bank holiday in India, British Indians have been forced to delay their seasonal festivities by a few days. Although not many bonfires are taking place in the UK due to the sudden drop in temperatures, many British Indian Punjabi families will be gathering with friends and family to celebrate in a true community spirit. However, for those who want to celebrate Lohri in its pure Indian form, one group of dedicated Indians are organising an event in north London.
Lohri Celebration in Harrow
A huge Lohri celebration, complete with a bonfire, is being organised in Harrow, north London. Traditional Indian musicians are expected to perform following the bonfire lighting, while an elaborate array of Indian food will be on offer. The event is being hosted by the Voice of Dogras, a group set up to raise awareness about the Dogras ethnic community from India's northern region of Jammu.
Date: 16 January 2016 (Saturday)
Time: 6.30pm onwards
Venue: Pink Turban, 439 Alexandra Avenue, Rayners Lane, HA2 9SE Harrow
© Copyright IBTimes 2023. All rights reserved.