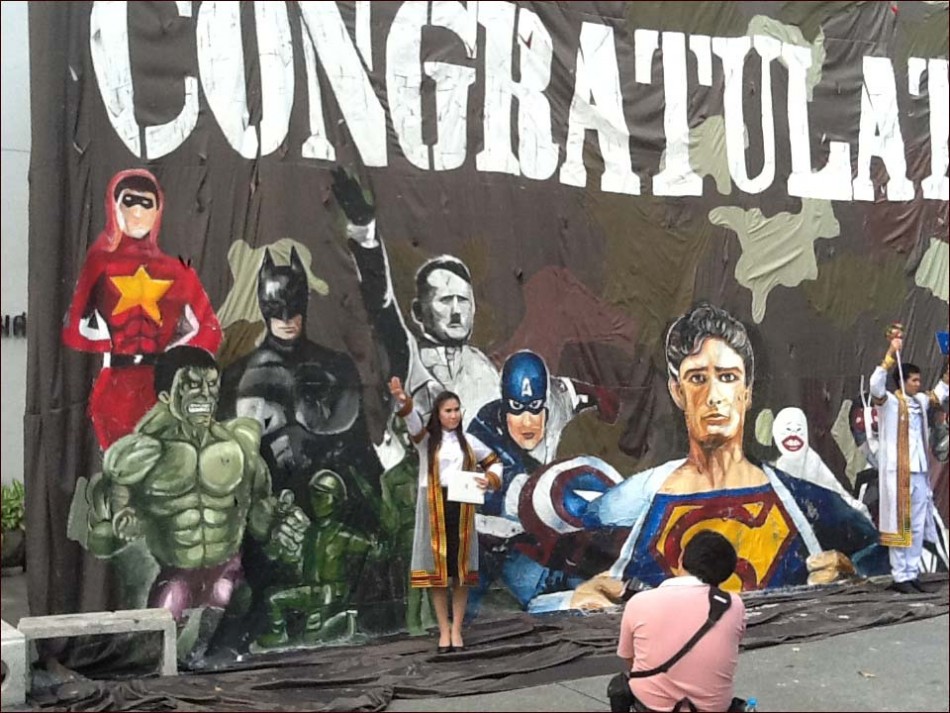 Students at Thailand's premier university have sparked anger with a tribute billboard depicting Adolf Hitler alongside US comic book superheroes.
The painting, aimed at congratulating new graduates at Bangkok's Chulalongkorn University, shows Hitler with his arm in a Nazi salute. With him are Batman, Captain America, the Incredible Hulk and Superman.
"Hitler as a superhero? Is he an appropriate role model for Thailand's younger generation - a genocidal hate monger who mass-murdered Jews and gypsies and who considered people of colour as racially inferior?" asked Rabbi Abraham Cooper, associate dean at Jewish human rights group Simon Wiesenthal Centre.
"The Simon Wiesenthal Centre is outraged and disgusted by this public display at Thailand's leading school of higher education."
A picture of a young female graduate in her robes mimicking the Hitler salute beneath the billboard was posted on the centre's website.
"We are outraged by those who created this travesty, at the young person posing using the Nazi 'Seig Heil' salute," Cooper said.
The university has ordered the billboard to be removed and issued an apology. It was reportedly up for two days.
"[We] would like to formally express our sincere apology for our students' superhero mural," art school dean Suppakorn Disatapundhu said. "I can assure you we are taking this matter very seriously."
Suppakorn said that students had included Hitler in the painting as a contrasting figure to the superheroes.
"They told me the concept was to paint a picture of superheroes who protect the world," Suppakorn said.
"Hitler was supposed to serve as a conceptual paradox to the superheroes.
"This kind of thoughtless display will not happen again."