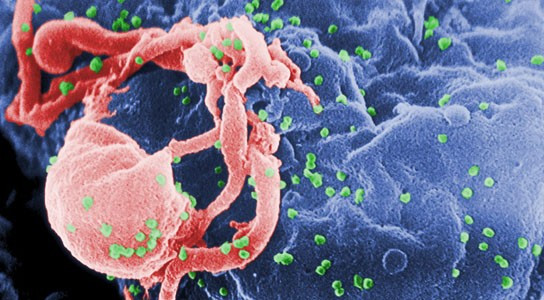 The world's longest-term remission from HIV in children has been recorded in a French teenager who shows no sign of the infection despite stopping treatment 12 years ago.
It is believed that early treatment was a reason.
She was passed the virus from her mother during birth in 1996. After being treated with four anti-retroviral drugs soon after, the family decided to stop the treatment when she was six.
The levels of the virus in her blood are undetectable at present.
Doctors have warned that this could be a temporary phase but overall welcomed the case as a proof of how early treatment works against HIV.
It is also the first case of long-term HIV remission seen in children.
The case was presented at an International Aids Society (IAS) conference in Vancouver.
Two landmark studies that add weight to the case for starting HIV treatment immediately after diagnosis were also presented at the conference.
Early treatment the key
In the Strategic Timing of AntiRetroviral Treatment (START) trial involving 4,700 HIV-positive patients, it was seen that immediate treatment cut the risk of serious illness or death from HIV-AIDS by half.
Ten-year results from another trial, known as HPTN 052, showed starting anti-retroviral therapy early reduces the risk of transmission by 93 percent.
There are around 20 to 25 million infected people worldwide who are not on treatment yet.
Referring to the remission case, Dr Asier Saez-Cirion, from the Institute Pasteur in Paris, said: "It's likely that this girl has been in virological remission for so long because she received a combination of anti-retrovirals very soon after infection.
"With this first, highly documented case of this young woman, we provide the proof of concept that long-term remission is possible in children, as in adults."
The girl's parents had stopped treatment for a year and then got her to the clinic where doctors were not able to detect any viral load and hence decided to stop treatment. The child has been closely monitored since then.
She, however, harbours reserve HIV DNA in her cells.
"They are at low levels, but the virus is still there," Dr Saez-Cirion said.
Two years ago, a young girl in America appeared to be free of HIV but the remission lasted for just two years after treatment stopped.
She had also been on early treatment, going to show that other factors besides early treatment are at play. These could include the individual's genetic predisposition or a robust immune system.
A very small number of adults infected with HIV have lived many years without detectable levels of the virus in their blood after stopping treatment.
Almost 78 million people have been infected with the HIV virus globally, of whom about 39 million have died, says the World Health Organization. Almost 35 million people were living with the disease at the end of 2013 while 1.5 million died due to Aids-related symptoms.