Dogs of war: Who are the British mercenaries roaming Africa accused of 'war crimes'?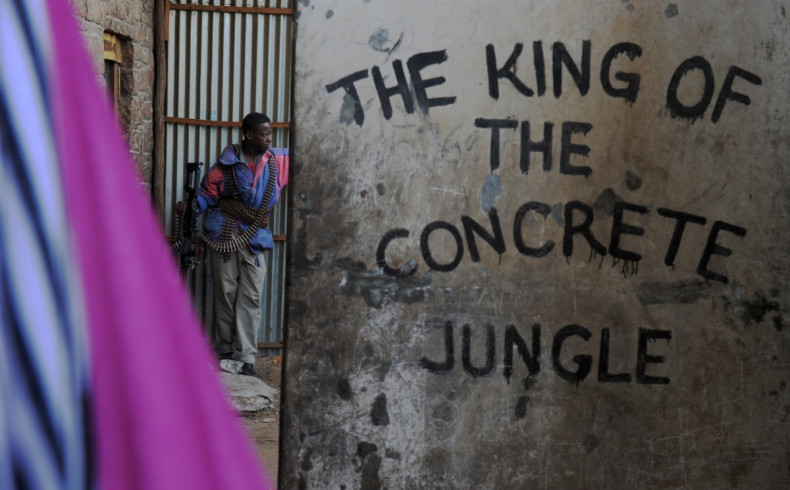 In the 15 years since the declaration on the war on terror, UK private military and security companies (PMSCs) have made billions of dollars in contracts awarded by British and foreign governments, as well as other private companies.
The security industry, which move vast quantities of weapons and typically recruits former soldiers or members of the UK Special Forces to carry out passive or defensive security, have expanded their activities in Africa, where experts claim they have been linked to both human rights abuses and political destabilisation.
IBTimes UK takes a closer look at how these firms - described by analysts as corporate "mercenaries" or "guns for hire"- are able to carry out secret missions and what abuses they are linked to.
Proliferation in resource-rich Africa
There are several hundred British private security firms operating today, according to Sam Raphael, a senior lecturer in politics and international relations at Westminster University who specialises in foreign policy, human rights and the arms trade.
His latest report - which he researched with a team from Kingston University over a period of two years - reveals that there were 60 British firms operating in Iraq alone at the height of the occupation but, because of the unregulated nature of the sector, there is no clear register about the exact number of PMSCs or their geographical reach today.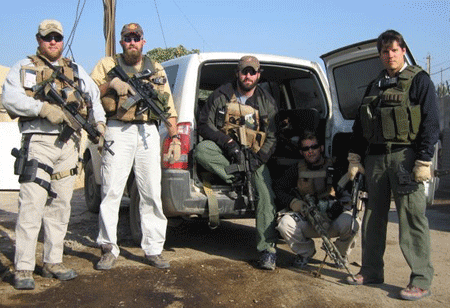 Contractors from private military company GK Sierra in Afghanistan
John Hilary, executive director at War on Want, added that dozens of big British companies listed by the International Code of Conduct Association (ICoCA) - the main self-regulation body for PMSCs - "are all either already involved or becoming involved across either Sub-Saharan Africa or North Africa, where there are vast security issues".
Because UK troops - particularly the Special forces such as Special Air Service (SAS) and Special Boat Service (SBS) - have a certain cachet in terms of training, and because a large number of extractive corporations are either British or have significant presence in the UK, many British PMSCs, operate throughout East and West Africa.
"Wherever you have a situation where you have the oil industry, civil war or any form of unrest, that's where you can be sure Aegis Defence Services, Control Risks, Olive Group or Blue Mountain are working," Hilary told IBTimes UK.
Aegis Defence Services, for instance, has experience in 18 African countries, including resource-rich Angola, the Democratic Republic of Congo (DRC) and Central African Republic (CAR). UK multinational G4S, the world's largest private security firm, boasts an annual turnover of around £500m ($726m) on the continent.
In the Niger Delta, Hilary highlighted a very complex nexus of groups working together. Royal Dutch Shell, for example, directly employs its own security staff - private military companies - who work hand-in-hand with special detachments of the Nigerian military.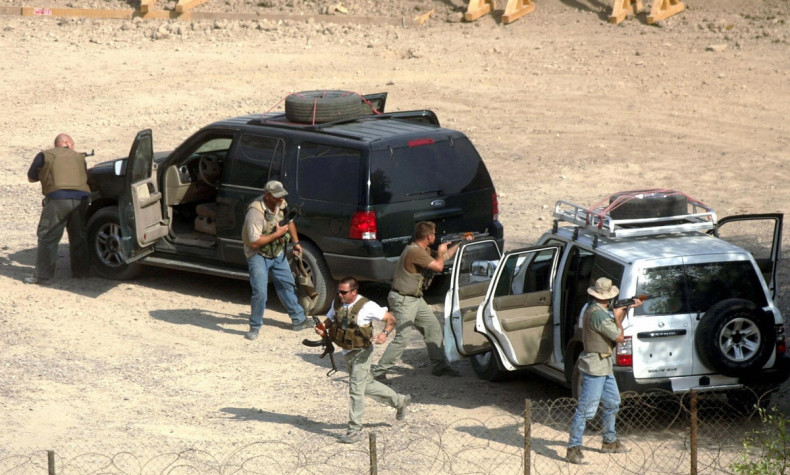 Armies using 'proper old-style dogs of war'
In a new development, in Sub Saharan Africa and Yemen, it is no longer unusual to find regular sovereign army forces contracting in experienced fighters as mercenaries - "the proper old-style dogs of war", according to Hilary - coming in and selling their services.
This is the case in the fight against Boko Haram in the north of Nigeria, where South African mercenary troops from the apartheid era are brought in through contracts with the Nigerian army.
In Yemen, Colombian fighters, who have been recruited by the elite mercenaries of the notorious US private security firm Academi (formerly Blackwater Security Consulting) to fight in the Saudi-led campaign against the Houthis, have been brought in precisely because of their years of hard experience in Colombia's civil war.
The reason for this proliferation, Hilary believes, is twofold: "It's a mix of both the application of responsibility, but also the cost side of it".
Firstly, he said, a great number of PMSCs were awarded contracts following a huge political outcry over the presence of British troops during the wars in Afghanistan and Iraq. "Therefore, in order to try and get around that, we know that the British government had arranged with other states for private security contractors to do the same job, of working with the rebels in Libya, because NATO forces didn't want to be seen to be on the ground."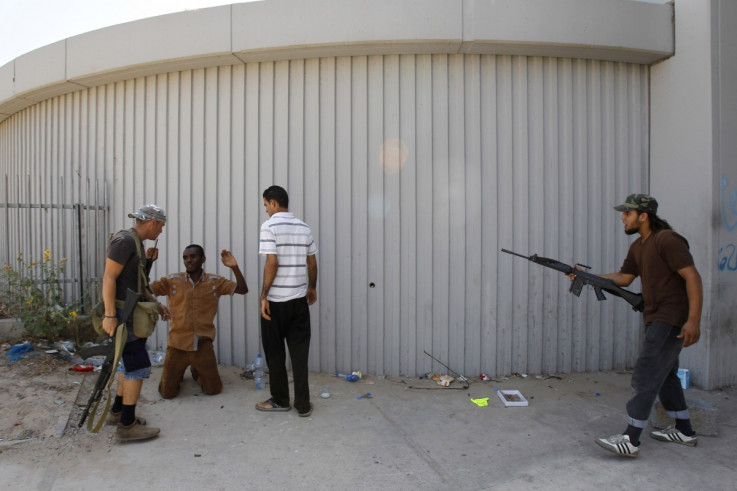 A man (2nd L) accused of being a loyalist mercenary of Libyan leader Muammar Gaddafi kneels at one of the several checkpoints in Tripoli, 28 August 2011
REUTERS/Youssef Boudlal
According to Raphael, the UK's Foreign and Commonwealth Office has awarded contracts to PMSCs in conflict zones totalling around £50m annually. According to a Freedom of Information request, it contracted two PMSCs, Control Risks and GardaWorld, in Libya for "mobile and static guarding" for a total of £8.5m.
Secondly, the privatisation of this militarised security is financially preferable. "If you want to have round-the-clock protection of oil and shipping lanes in the sea off the East coast of Africa, then it's going to cost you millions to have sovereign troops doing that. Whereas if you can outsource it to private military contractors, it makes it that much more convenient and you know that they don't have to abide by the same rules or chain of command," Hilary explained.
Mercenaries linked to 'war crimes'
The latter is also a source of concern for Raphael, as the "mercenaries" can use their - unregulated - status to ostensibly evade responsibility for a number of crimes.
"There have been incidents where it's very clear that PMSCs have been involved in war crimes and other human rights abuses have been perpetrated by members of these private security companies. They do work alongside locals forces who are linked to endemic abuses," Raphael claimed, adding that the mechanisms to hold these companies accountable - such as those to launch complaints around abuses and follow those up into whole companies accounts - "simply aren't there".
Hilary agreed: "The worst examples are where you had contractors opening fire on other individuals - armed and unarmed. There was no sense in which they had to follow orders or any preliminary conditions they had to have met before they could use lethal force. Now, the licence to commit murder outside any control has almost been normalised."
While the experts suggested that the majority of security-related incidents go unreported, in 2014, four Blackwater Security Consulting (now Academi) employees were tried and convicted in a US federal court; one of murder, and the other three of manslaughter and firearms charges.
The convictions came after they shot at Iraqi civilians, killing 17 and injuring 20 in Nisour Square, Baghdad, in September 2007, while escorting a US embassy convoy. These killings, Iraqi police investigator Faris Saadi Abdul said, were "unprovoked". Blackwater Security Consulting's license to operate in Iraq was temporarily revoked following the incident.
As the use of PMSCs in the maritime industry boomed - particularly in the Indian Ocean, infamous for its pirate activity - so too have incidences where "(they) have shot indiscriminately at approaching vessels, sometimes resulting in the deaths of innocent fishermen," Raphael claimed.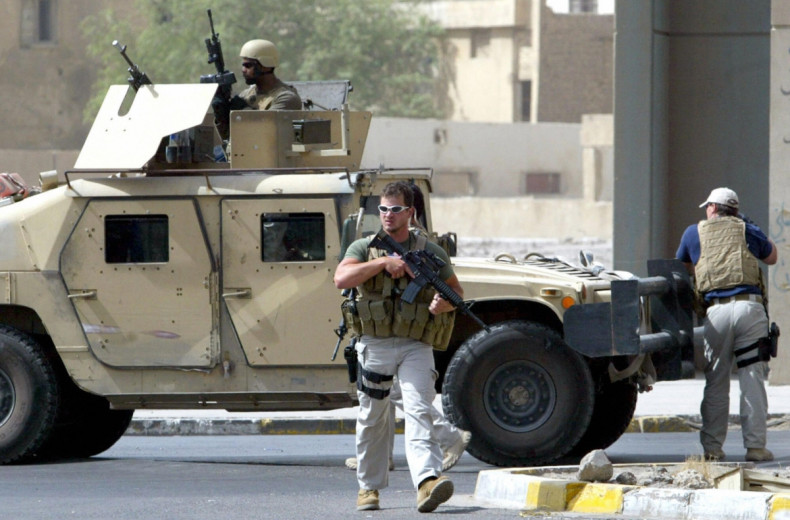 Destabilising nations with 'illegal arms trade'
More recently, Raphael's research also revealed disturbing finds around the involvement of a number of British companies in illegal arms storage, purchasing or trade.
PMSCs have been accused of buying arms illegally in some of the strife-torn countries in which they operate - including Yemen - and then dumping the weapons overboard before reaching their destination.
"Given that you get an AK-47 for about $200 (£137) in most big African towns and it costs about $1,000 per weapon to do it legally and there's all the forms, coastguard licences..." one contractor told Raphael, "a lot of people think it's easier to buy weapons illegally and drop them (overboard) when you come out of the danger area."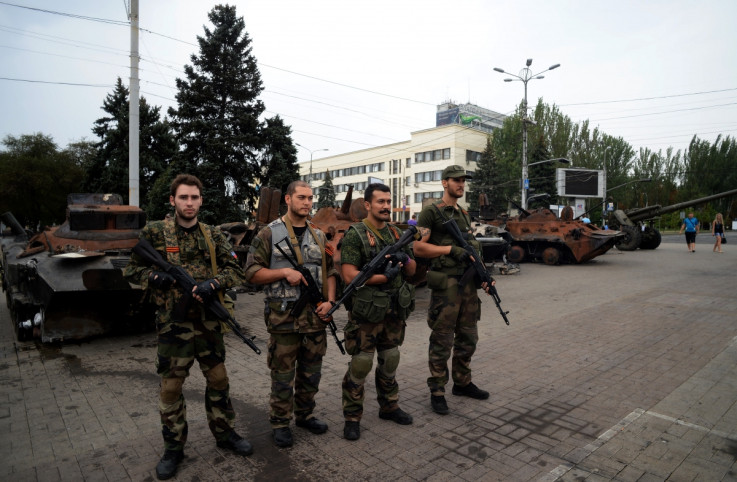 French volunteers fighting for the Pro-Russian activists in Donetsk in August 2014
FRANCISCO LEONG/AFP/Getty Images
In one such case, personnel from contractors working for the UK company Protection Vessels International Ltd (PVI) had been using Eritrean territory to stash sniper rifles, pistol silencers and tracer bullets. They were arrested by Eritrean officials in 2011 and subsequently charged with sabotage, espionage and terrorism, according to Raphael's research. The company later apologised.
This influx of guns has a deep impact on political instability in the region, as Raphael explained that "introducing more guns while more gun-for-hire companies are running around that already-unstable situation only increases destabilisation".
Urgent need for industry regulation
Both experts say the industry continues to go unchecked, despite so-called "voluntary codes" such as the 2010 International Code of Conduct for Private Security Service Providers (ICoC).
The ICoC's aim is to establish a set of principles for the industry based on international law and improve the PMSCs' accountability, through a mechanism responsible for certification, auditing, monitoring and reporting. However, critics claim the ICoCA "fails as a credible instrument in key areas such as governance, monitoring, redress, sanctions and state responsibility".
South Africa - which has had a long tradition of PMSCs - has put restrictions on where its private security firms should go and fight, while Switzerland bans companies based in the country from operating in conflict zones.
Yet, Hilary highlighted the UK has never implemented such measures - instead adopting a standard (PSC.I) that relies on self-regulation and voluntary reporting, rather than binding regulations with redress mechanisms and sanctions.
The UN is drawing up plans for an international convention that would be legally binding.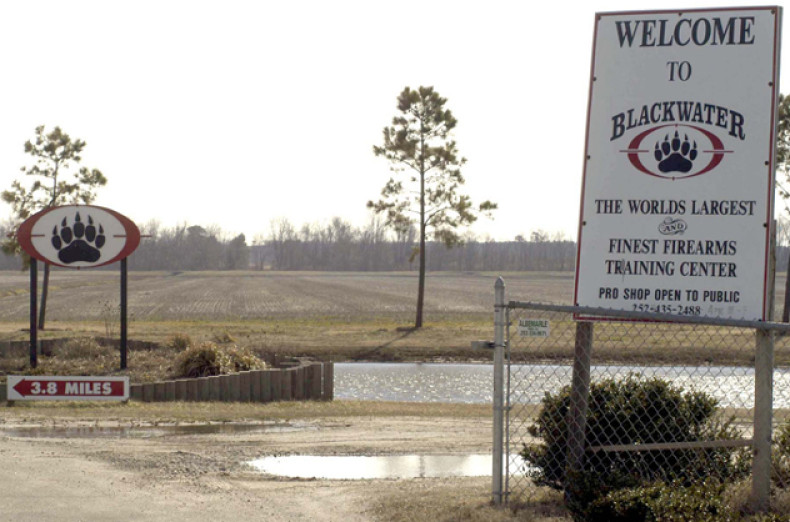 A Labour shift in policy?
In the mid-2000s, Labour's 1997-2010 administration told Hilary they were preparing for regulation of the industry, but "an intervention right at the top of the government" precipitated a big shift at the end of the Labour's 1997-2010 tenure.
"After that, they said they were not going to push for regulation any more. The person preparing for regulation at the Foreign Office subsequently left - his role ended," Hilary, who was already investigating PMSCs at the time, explained. "It was very much David Miliband (former foreign secretary), who said he saw the future as involving these private military companies", he added.
Instead, subsequent governments have pushed for the development of self-regulated mechanisms, which have now translated into 'ISO-style' international standards regulations.
Hilary added: "Instead, the UK sees it as a growth industry, which means they have got a lot of backing from the government. Hence why the government didn't apply any external regulation, but rather left the industry regulate itself, and promoted the PMSCs as being a good thing for Britain."
In Raphael's view, these companies - 100s of them almost all staffed by ex-military personnel - have created a corporate security nexus, which lies outside any kind of structure of accountability.
"It's really dangerous and really corrupting for British political culture as well," he added.
While the ICoCA stated "the Signatory Companies commit to the responsible provision of Security Services so as to support the rule of law, respect the human rights of all persons, and protect the interests of their clients", the regulatory body failed to respond to IBTimes UK's request to comment. The British Association of Private Security Companies (BAPSC) likewise did not respond to an email requesting comment.