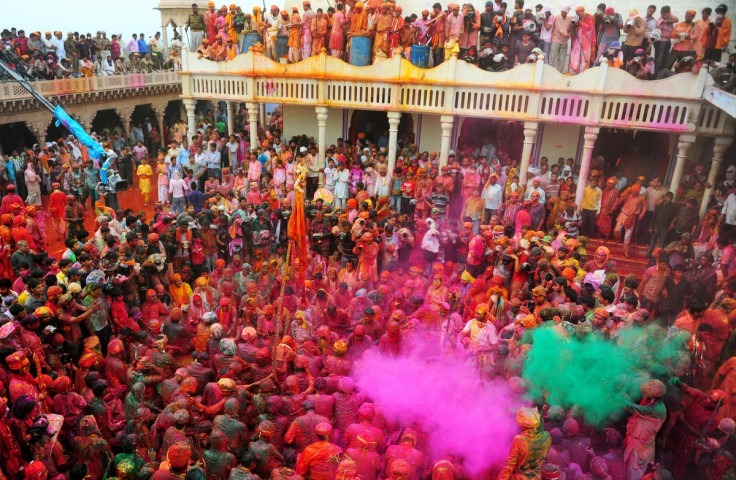 Holi is one of India's most popular festivals, signifying the beginning of spring. Although the festival has its roots in Hinduism, it is widely celebrated by people of all faiths across the country, as well as Indians around the world.
The festival has caught on in a big way among non-Indians, who have been drawn to the celebrations that see communities get together in a large water fight with coloured water and powdered paint. Dancing and singing is also involved in the festivities as people take to the streets to cover each other in different paint and water.
A number of religious stories are associated with the festival of Holi however, most people believe that the water fight originates from Lord Krishna. It is well known that Lord Krishna was particularly mischievous as a young boy and some say that he would throw coloured water over the gopis (milkmaids), sparking the tradition of the Holi water fights.
With its large Indian community, London has also caught onto the Holi bandwagon and a number of events are held in the English capital every year to mark the Hindu festival. IBTimes UK rounds up some of the best events taking place in the city for Holi 2016.
London Desi Hangout's Holi
This event is taking place in the Heath Park Golf Club so it's bound to be a grand celebration. It is being organised by Shivoo, a group that frequently organises events for the Indian community in London – "Shivoo" translates as "party" or "celebration". True to their name, their Holi event will also see a Bollywood DJ and dhol (Indian drum music), allowing you to immerse yourself into the celebration mode Refreshments will also be provided during the event.
When: 11am – 4pm on 20 March 2016
Where: Heath Park Golf Club, Stockley Road, West Drayton, Middlesex UB7 9NA
Price: £15 (adults), £5 (children)
Visit the event website for more information.
---
Holi Land Festival of Colours
This event has dubbed itself the "biggest Holi event in London" and promise to offer guests a "real traditional Indian Holi". Kicking off with the festivities just at lunchtime, the Holi celebrations are expected to go on until 3am the following morning.
This event is strictly for over 18s only and is taking place in an outdoor nightclub in south east London, famous for allowing their guests to party "Ibiza style". The Holi event is being organised by Deepak Yadav, who has a reputation as being the first person to start Bollywood nights in some of London's top Mayfair nightclubs. World famous DJs, live performances and dhol players are expected at the Holi event and each ticket to the event comes with a packet of free colour powder.
When: 1pm – 3am on 18 March 2016
Where: Studio 338, 338 Tunnel Ave, Boord Street, London SE10 0PF
Price: Starting at £30 for the early bird tickets, with tables available for £1,000
Visit the Eventbrite page for more information.
---
Holi Hungama 2016
Hosted by the Rajasthani Foundation, this event brings together the traditions of Holi with a cultural fusion of Rajasthani song and dance. A three course meal will also be served and a DJ will be playing to help attendees get into the party spirit for the Holi festival. Those with tickets will also be able to take a tour of Lord's cricket ground.
When: 11am – 4pm on 20 March 2016
Where: Lord's Cricket Ground, Saint John's Wood Road, London NW8 8QN
Price: £45 (non-members), £40 (members), £25 (children)
Visit the Eventbrite page for more information.
---
Holi Yoga Feast
For those looking to have a more relaxing Holi, this event might be the one for you. Wild Thyme Food and Katarina Rayburn Yoga have teamed up to bring you food, yoga and Holi celebrations all in one. The evening begins with a serving of chai at the Brockwell Lido Café, followed by a 90-minute yoga session. Following that, an Indian feast awaits guests, who are also allowed to bring their own drinks.
When: 6.30pm on 18 March 2016
Where: Brockwell Park, Dulwich Road, London SE24 0PA
Price: Starting at £35 for the early bird tickets, up to £40 for standard tickets
Visit the event website for more information.
---
Cinnamon Kitchen's House of Holi
Although this event is ending a few weeks before the day of Holi, it's still a fun one to help bring in the festivities. The well-known Cinnamon Kitchen is offering Londoners the chance to step into a Holi "party pod" and throw coloured powder at friends and family for 30 minutes. The pod has been set up outside the restaurant and those with the full package tickets will also be treated with the Cinnamon Kitchen's three-course Holi menu. Furthermore, the Anise Bar will be serving a range of colourful "Holi cocktails".
When: 7 March – 12 March
Where: Cinnamon Kitchen, 9 Devonshire Square, London EC2M 4YL
Price: Starting at £8
Visit the event website for more information.
---
Holi celebrations at Shri Swaminarayan Mandir
For those looking to celebrate Holi in the more traditional way, the BAPS temple is hosting an evening of prayer ceremonies dedicated to the festival. The temple also hosts one of the only Holi bonfires taking place in London, which is said to symbolise the triumph of good over evil. Following the prayer ceremony refreshments and snacks will be available.
When: 6pm onwards on 22 March 2016
Where: BAPS Shri Swaminarayan Mandir, 105-119 Brentfield Road, Neasden, London NW10 8LD
Price: Free
Visit the temple's website for more information.
---
Holi with Dishoom
Popular Indian restaurant Dishoom is hosting two Holi parties in one day, with at least 2,000 people expected to attend. Music, entertainment, street food and, of course, coloured powder is on the list of things to expect as Dishoom enters its fourth year of Holi celebrations. An event during the daytime (12pm until 3pm) has been designed for families, while an event in the evening (6pm until 10pm) invites adults to dance to live music and DJs. Last year tickets sold out within two minutes of going on sale, so organisers warn Londoners to be on alert as tickets prepare to go on sale at 2pm on 18 March.
When: 10 April 2016
Where: York Hall, 5-15 Old Ford Road, Bethnal Green, London E2 9PJ
Price: £25 (adults), £15 (children)
Visit the event website for more information.
---
The Colour Run 2016
This event isn't taking place until later in the year, but is still a good occasion to get a taste of Holi in London when the weather is slightly warmer. Although not directly associated with the Hindu religious festival, the Colour Run sees participants running 5km as they get sprayed with a range of different colours. It has been designed to promise happiness and friendship, values that are also at the heart of Holi events.
When: 12 June 2016
Where: Wembley Park, London HA9
Price: £26 (adults), £10 (under 5s)
Visit the event website for more information.