Amsterdam's oldest prostitute has decided to call it a day after nearly half a century plying the world's oldest profession.
Martine Fokken retired from her long career in Amsterdam's red light district just months after her identical twin sister Louise did the same.
Together Martine and Louise became local celebrities in the city and were even the subject of their own documentary film 'Meet the Fokkens.'
They always worked together and could be spotted dancing on the pavement, flashing their wares to passers-by.
It is estimated that a total of more than a quarter of a million customers were entertained by Martine and Louise during their long career.
But now the rwindow curtain is being drawn for the final time by the world's most experience prostitute.
Martine explained her decision to bow out now at 70-years-old: "I'm too old to have sex," she said.
Louise packed up the job two years ago because of painful arthritis. She told the Guardian: "I could not do the positions."
Her twin kept on going because of a shortage of money.
The unlikely pair have worked together throughout their careers. Martine began being a street worker after becoming a mother for the first time.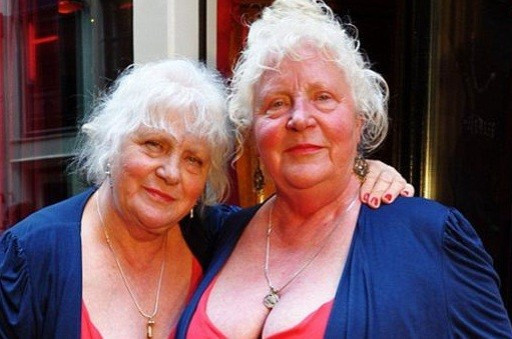 Martine said: "My mother came in and said, "You know Louise is [in prostitution]. I was in shock. I wanted to help her."
"Later on they needed a cleaner in the brothel and Martine took the job and the men asked her for business," says Louise. "So we started doing threesomes, and that was how we ended up working in the same house [window brothel] together."
Louise said: "We are always together. We do everything together."
Both the sisters have mixed feelings about the legalisation of prostitution by the Dutch authorities.
"There is no point working just for tax. That is why the girls are working from the internet and from home - you are less likely to be spotted by the taxman.
"The whole family used to live off your earnings and now the tax office comes up with crazy amounts you have to pay. It is better for the pimps and the foreigners, but not the Dutch girls."