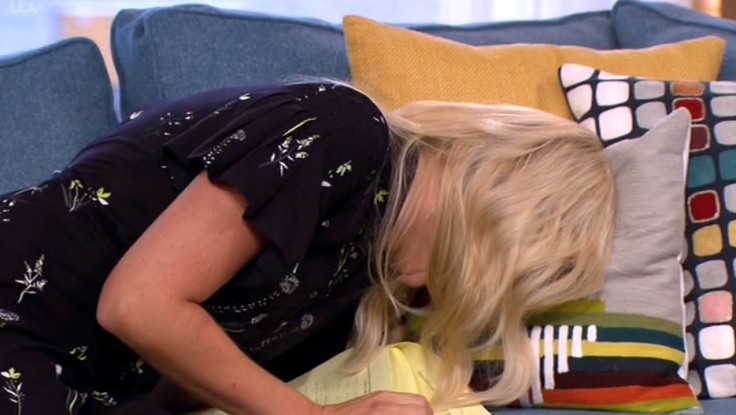 This Morning viewers were left in stitches after presenters Holly Willoughby and Phillip Schofield spoke to a couple who have 18-hour long orgasms on today's programme (27 September).
36-year-old Willoughby couldn't contain her amusement as she quizzed Scott and Melanie McClure about their bedroom antics, even asking if they were having an orgasm live on air.
The married couple claimed that they are avid practitioners of tantric sex, and said that the mystical practice has helped them maintain a climax for 18 hours – sometimes orgasming by simply hugging.
Despite remaining professional and semi-serious throughout the hilarious chat, Willoughby broke into hysterics as soon as it was over. She told them: "My goodness you are a machine. This has been one of my favourite interviews ever."
She also revealed that she wanted to know more about the practice, adding: "I'll call you."
Schofield, on the other hand, struggled to understand the concept and asked what the benefit for men would be as they'd be an "empty shell" after orgasming for 18 hours.
Viewers found the interview equally entertaining, with one tweeting: "Omg this is too funny, actually crying with laughter".
Another put: "That was exciting!!!... best interview... the punch line Phil was brilliant... fortunately my 95 year old mum was making a brew ".
Some thought it was too inappropriate for morning television, with one stating: "Don't think this topic is appropriate for this morning what about the kids that are watching."
Meanwhile, mother of three Willoughby wowed her 2.5m Instagram followers this morning with her latest outfit post, showing off her recent weight loss in a monochrome floral print shirt dress by Hobbs – which is now available to buy online with 20% discount.
She styled the autumnal frock with strappy black sandal heels by Ego Official and wore her blonde locks in her trademark, wavy style.
One fan commented: "I need your wardrobe! X" as another put: "Quite honestly I am getting fed up looking at you looking absolutely beautiful every day!! Always looking GORGEOUS #makemesick!! Xx"
A third added: "Very beautiful I love you in this well done again spot on ❤❤❤xxx".