A marble gravestone in Graz, Austria, defies the country's ban on Nazi symbols. While officials are aware of their presence, they are unable or reluctant to remove them, it has been revealed.
Marked with a swastika, the headstone reads: "He died in the struggle for a Great Germany." A few metres away, another headstone shows the SS lightning bolts - worn by the Schutzstaffel and SS members of the Nazi party.
In Austria, a ban on Nazi symbols was put in place in 1947. Those who display them face criminal charges and a potential jail term. While the symbols on the graves are unnoticeable at first glance, they are certainly visible - and reflect the country's dark history.
According to a Vienna spokesman, none of the gravestones in the Austrian capital exhibit the symbols. However, Hans-Joerg Bacher, a top prosecutor in Graz, said the law did not apply to headstones erected before 1947.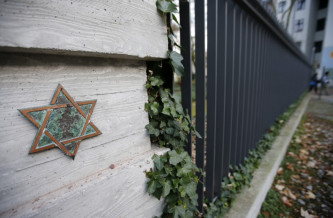 In 2005, German politicians called for a worldwide ban on Swastika symbols. The argument for the ban was based on all of Europe having suffered at the hands of the Nazis - so a continent-wide ban is necessary. Displaying the swastika and other symbols is illegal in Germany.
It can be argued, however, that removing all evidence of Nazi crimes would sweep undeniable history under the carpet. Education about European Nazism would teach future generations and descendants of the survivors of the true meaning of the symbols. A swastika or SS lightning bolts still cause an emotional response to all generations aware of the Holocaust.
Speaking to BBC's Radio 4 at the time, Shami Chakrabarti, director of the British civil liberties organisation Liberty, said banning the swastika would not solve "a serious social issue". She added that generations should be taught the "horrors of the Holocaust".
The revelation of the gravestone symbols comes just before Holocaust Memorial Day. Taking place on Sunday 27th January and ending on Monday 28th, it was organised by the Holocaust Memorial Day Trust. It was established as an international day of commemoration in 2000.
The UK government has responsibility for running HMD between 2001 and 2005, which was organised through the Home Office. In May 2005, the trust was registered as a charity. It has set up various events each year and an art exhibition for this year's HMD is being held at the A-Side B-Side Gallery in Hackney, east London.