Holocaust Memorial Day 2015: 'Anti-Semitism isn't returning in Germany - it never left'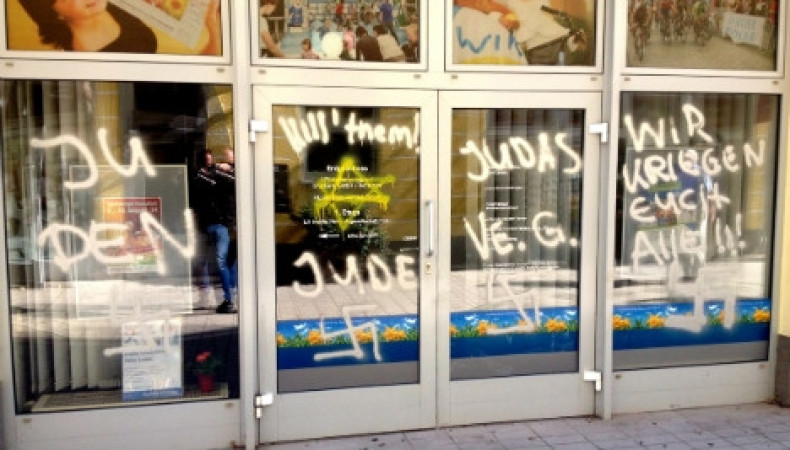 Seventy years on from the liberation of Auschwitz, the Holocaust still casts a baleful shadow over Germany. Reminders of the genocide committed by Adolf Hitler and his Nazi henchmen are everywhere, put there by the government to ensure such atrocities never happen again.
Go to Berlin and you'll find a Memorial to the Murdered Jews of Europe, a dystopian lattice of concrete slabs which looks like a futuristic cemetery. Visit the former concentration camp sites in Ravensbruck and Bergen-Belsen and you'll find simple tableaus, designed to remember the evils of Nazism and force you to think about what the SS did there.
All over Germany, Holocaust memorials are dotted around public places, ensuring no section of society can escape the memory of their country's past. Germany is not trying to run away from its history; no-one is afraid of using the N-word.
And yet, it seems the tide of anti-Semitism, a tide which swept away entire generations of people, is rising again.
Last September, thousands of people marched through Berlin to denounce a resurgence in anti-Jewish sentiment. Four months earlier, a study showed that 19 million Germans hold anti-semitic views. While the primary focus of those seeking to denounce German racism has recently fallen on the country's anti-Islam marches, in reality the Jews are also vulnerable in a country whose hierarchy remains staunchly white and Christian.
We asked Bernd Wagner, co-founder of counter-extremism body EXIT Deutschland and one of Germany's foremost experts on the far-right, whether anti-Semitism is returning in his country. His answer was far more troubling than we had expected.
"Anti-Semitism never left Germany" Wagner said. "Within the population there are definitely anti-Semitic views and these have definitely made an appearance in public in the last few years. For many years they were very hidden and not open, but in the last 10-15 years there have been more public possibilities to present oneself in the [anti-semitic] way. And that obviously causes relevant conflicts."
'We haven't forgotten the Holocaust - but people are distant from the past'
Wagner does not believe his compatriots have necessarily forgotten the Holocaust. "That time, and the mass murder that happened, could not be forgotten," he says. Instead, he feels a certainty complacency has crept into society regarding the Holocaust, allowing anti-Semitism to seep in.
"In the opinion of many people the time of national socialism was a different time, a horrible time" Wagner says. "Nowadays people view the whole killing machinery of the Nazis definitely critically, but they have also developed a distance to the past. And that's the reason why people voice anti-Semitic opinions, without being aware of the deep consequences."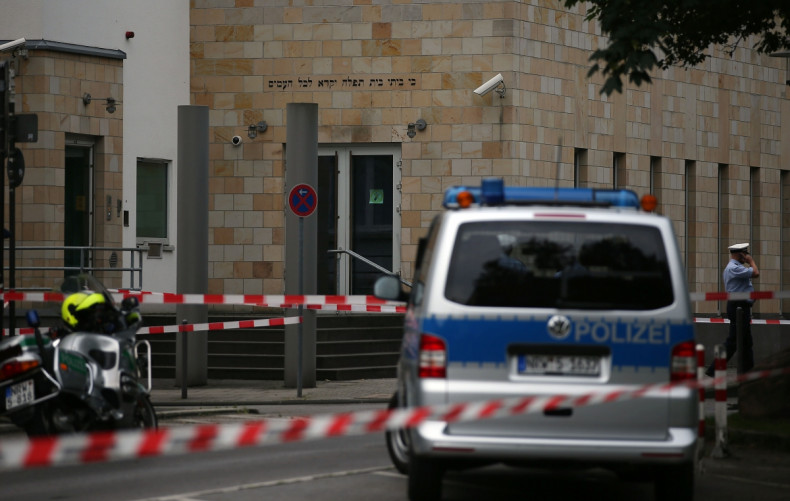 While racism in Britain is generally seen as the preserve of old people raised in a different time, and of uneducated Neanderthals with shaven heads and tattooed knuckles, it seems that Germany's racist demographic is far harder to pin down.
In 2009 journalist Gunter Wallraff produced a groundbreaking documentary, in which he painted himself black, donned an afro wig and recorded the reactions of people in predominantly white areas. He found that there were elements of racism in all aspects of society, not just the neo-Nazi fringe.
Wagner says that the anti-semitic element of German society is similarly amorphous. "It is scattered trough the whole of general public. In socially disadvantaged classes as well as in socially strong classes, so you can't define a clear milieu.
"What you can see is that people who are afraid of the future, who think that something could be taken away from them or already has been taken away from them, are looking for people to blame. And from that they find the topic of anti-Semitism and then construct anti-Semitism in the shape of a fictional Jew."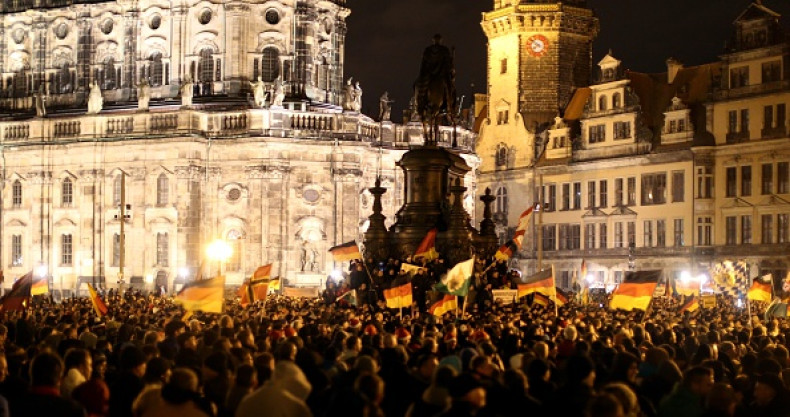 'People blame the Jews for capitalism – and claim they influence world history'
It seems that the war between Israel and Gaza last summer provided a focus for this anti-semitic sentiment.
While Israel's perceived oppression of the Palestinians became a hipster cause celebre in the UK, in Germany the outrage took a far more violent form; a a synagogue in the city of Wuppertal was firebombed at the height of the conflict, prompting one local Jewish businessmen raise the spectre of Kristallnacht, pronouncing that "synagogues are burning again in Germany in the night."
Wagner certainly believes that the Gaza conflict was a boon for the Jew-haters, telling us that "anti-Semitic views are also connected to criticism against Israel. Israel against the Palestinians is a story always used to promote anti-Semitic opinions."
However, it seems that German people's grievances against the Jews are more deep-rooted. And, worryingly, they are fuelled by the same paranoid narrative which propelled the Nazis to power in the 1930s.
Wagner said: "Anti-capitalist views are very strongly developed, where social injustice is blamed on capitalism, and capitalism is said to be a tool of the Jews. [This view is] very strong in right-wing extremist circles, but also has some resonance with the general public.
"Another view, which is actually old is but also new in a way, is that the Jews are accused of influencing world history, pre-planning and organising events way beforehand. In a way the conspiracy theory approach is absolutely present in society."
Given the huge Islamophobic marches witnessed in Germany recently, one wonders which groups is seen as the biggest threat – Jews, or Muslims. "That is difficult to assess" Wagner says. "That depends what milieu you are dealing with. There are groups, which I have noticed personally, where Jews and Muslims are perceived as the enemy in equal measures.
"But there are also groups and milieus where differences are made. Where it is said that, yes, you can come to terms with Jews, you can live with them but with the Salafists you can't, and you can't live with people believing in the Qur'an, so it really depends."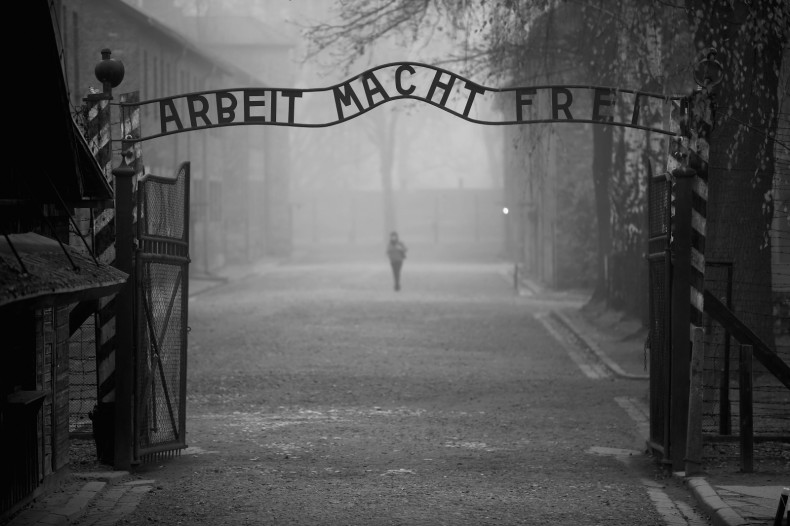 Nazis won't return - but Islamists and far-right gangs pose major threat
Despite his firm belief that Germany remains an anti-semitic society, Wagner is keen to stress that there is no chance of the Jews suffering another period of sustained persecution, and that Germany will never again embrace a political creed as extreme as Nazism.
"A Nazi party? definitely not" he says. "That's something I can, at least for my life time, rule out, based on my political and social analysis. So a Nazi party definitely not. Of course, political structures could appear that are right-wing and populist, that is definitely a possibility. But national socialist structures? I don't think so."
Wagner is equally adamant that "there is no notion to act violently against Jews in any kind of way from the majority of the population." However he feels that gangs of right-wing thugs could pose a threat to the Jewish population, carrying out small-scale attacks like last summer's firebombing in Wuppertal.
Furthermore, the expert believes a major threat is posed by Germany's growing Muslim population, particularly its radical fringe, which could turn on the Jews and inflict the sort of attacks seen earlier this month in a Parisian Kosher supermarket.
"We have seen this in the last few years" Wagner says. "The Islamists, the militant Islamists, especially in the salafist spectrum, pose a threat to Jews, as we've seen in Paris. Those currents are also present in militant Neo-Nazis, who could also use violence against Jewish facilities, and against people."
Across Germany today, thousands of people will flock to the Holocaust memorial sites across their country, to see the scars of the Holocaust for themselves. However, despite the country's best efforts, it seems these scars are opening up once more, and a new generation is starting to worry.