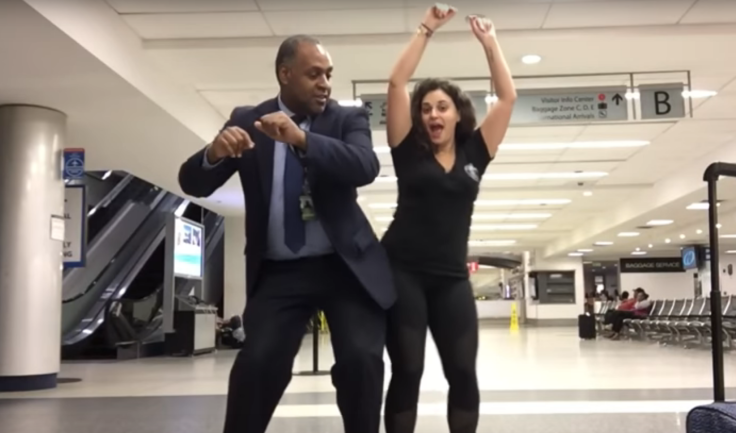 A woman left stranded overnight at an airport after missing her connecting flight decided to best out of of a frustrating situation and dance the night away in an uplifting video that has since gone viral. In a YouTube post on Saturday (23 September), Mahshid Mazooji said she got stuck at Charlotte Douglas International Airport after she missed her flight.
Rather than mope about it, she decided to make an impromptu dance video to Lionel Richie's hit 1983 single All Night Long.
"I didn't want to sit in anger all night long, so instead I did what makes me happiest...dance!!!!" she wrote in the YouTube video's description. "Oh, and I made some really great friends along the way! Thank you for dancing your troubles away with me!!!"
The hilarious two-minute-long video shows Mazooji dancing with various people around the airport - from late-night airport employees and other passengers to a Starbucks barista behind the counter. She also pulls off a perfect moonwalk in the video that one person said was "blessed by Mr [Michael] Jackson himself".
The video has already been viewed more than 602,000 times and has garnered over 8,000 "thumbs ups" and counting. It was also posted to Reddit by a user named "Death__BySnuSnu" saying: "My sister was stranded at the Charlotte airport overnight and decided to make the most o it."
"Holy sh*t that moonwalk," one person commented on YouTube. Another wrote: "WTF so everyone at Charlotte airport can just dance effortlessly? I need me some of that rhythm."
Many people praised the woman for making the most of an otherwise annoying situation and "bringing fun and joy to other people".
"Wish more people would overcome problems like this! we would live in a much much better world!!" one person said. Another wrote: "For those also waiting for their trips, or employees working over night, this could be an absolute day changer to get to dance and have fun. Awesome to get to see, put a smile on my face man. Thanks for sharing."
The official Twitter account for the Charlotte Douglas International Airport also posted the video saying: "Kudos to Ms Mahshid Mazooji for turning a tough experience at #CLT into a positive one."