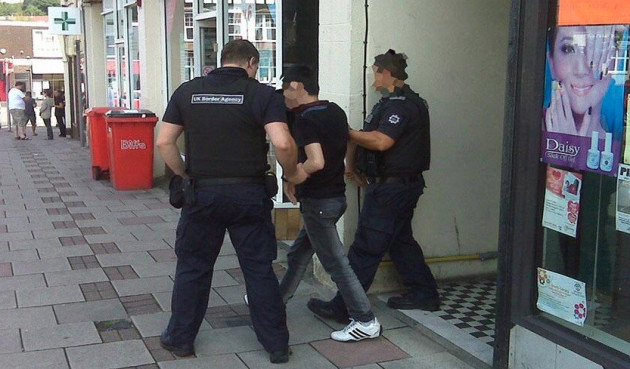 The Home Office became the target of online derision when it used Twitter to promote a "crackdown" on illegal immigrants in the week after it mounted vans on London streets with the slogan: "Go home or face arrest".
The department used the social networking site to post details of a series of arrests of individuals suspected of being in the UK without permission.
The gaffe was dismissed by some critics as a "cheap publicity shot", but others pointed out that its legality was dubious, and may have prejudiced legal proceeedings against those it had identified.
One Home Office post asserted that 139 people had been arrested on Thursday. It contained a link to a government web page entitled, "Immigration offenders arrested in Home Office operations".
The article described arrested suspects as "offenders", before any judgement had been reached.
New Statesman legal correspondent David Allen Green said: "For the Home Office to say those arrested are already immigration offenders is to prejudge their cases - and possibly contempt."
Undaunted
However the department continued to post details of suspected illegal immigrants arrested in raids yesterday.
Using the hash tag #immigrationoffenders, it said: "A total of 101 suspected #immigrationoffenders have been arrested in raids across the UK today".
Earlier, it had published tweets stating: "Suspected visa overstayer arrested at Swansea nail bar - 94 suspected #immigrationoffenders arrested across UK", again with a picture.
It published pixelated photos of suspects arrested in London, Durham, Manchester, Wales and Somerset.
TV presenter Charlie Brooker tweeted: "Hey @ukhomeoffice, why not make your tweet-a-long-a-stormtroop gallery of brown folk thrown in vans even more dystopian by using cattleprods?"
Comedian David Schneider added: "I'm enjoying @ukhomeoffice's tweeting of the preliminary rounds of the UK Hunger Games."
However immigration minister Mark Harper remained defiant, saying: "Today's operations highlight the routine work we are carrying out every day to stamp out illegal working. We are sending a clear message to employers who choose to use illegal labour.
"We will find you and you will pay a heavy penalty."
Van campaign
The tweets follow a mobile billboard campaign warning illegal immigrants to "go home or face arrest", which had been mounted in multi-racial areas of London. The government is being sued over that action.
Bizarrely, David Cameron's spokesman suggested there had been been a "great deal of interest" from illegal immigrants voluntarily calling a government helpline and asking how to leave the country. That claim was also derided by Home Office sources.
The business secretary, Vince Cable, called the van campaign "stupid and offensive", while Dave Garratt, the chief executive of charity Refugee Action, warned the campaign could "incite racial tensions".
"Over the last few weeks we've seen some very visible signs of the government's 'hostile environment' crusade. There have been vans out on the streets with threatening slogans and, reportedly, non-white people being visibly stopped and searched," he said.
A Home Office spokesman said: "We make no apology for enforcing our immigration laws. Our officers carry out hundreds of operations like this every year around London."