Home Retail Group Expects Major Cut in Full Year Dividends
Britain's household goods retailer, Home Retail Group, focuses on robust cost management along with cash positions due to ongoing uncertainty surrounding the UK economy. It will also prioritise its investment in the development of its multi-channel capabilities.
According to the group's interim management statement released in January, the board expects a significant cut in the full year dividend for the current financial year.
While commenting on trading, CEO Terry Duddy said: "In a trading environment that has been both volatile and demanding, Homebase has again seen more resilient sales. Argos sales continue to be impacted by the market decline in consumer electronics categories, however, we saw internet penetration reach over 40% of total sales, with Check & Reserve being boosted by the development of mobile commerce as customers embrace our leading multi-channel proposition. We have managed the business tightly over the peak trading period and expect group benchmark profit before tax for this financial year to be around the mid-point of the current analyst range of £78m-£125m."
The group reported that its sales decreased 6 per cent in H1 2011 to £2,568 million with profit before tax of £29 million and posted basic earnings per share of 2.6 pence. While, Home Retail had success in areas such as homeware and seasonal products during H1, this had been more than offset by the weakness in other product categories, most notably consumer electronics which saw the market decline by about 20% in the period, the net result of which was a marginal loss of market share in the period.
Ahead of its trading update on Thursday, JP Morgan upgrades the group's rating to "overweight" from "underweight". In a bullish note on UK general retailers, JPM said: "Our view on General Retail is becoming more positive. FY13 estimates seem sensibly based and while there is some near-term downside in the upcoming reporting season, this is due to housekeeping rather than to any fundamental changes in trend."
According to Home Retail, consumer spending in its markets continues to decline following the pressures which affect the amount of household cash flow they have available for the purchase of discretionary goods. Its Argos business suffered most whereas gain in market share of Homebase reflects a strong performance in a difficult trading environment. While the big ticket category remains challenging, the group has seen good growth in bedroom furniture, benefiting from the rollout of new fitted ranges into stores together with installation services, and also a good performance in bathrooms.
Last month, the group named a former Best Buy executive, John Walden to be the managing director of its struggling 759-store Argos chain of business and given him a mandate for change. Analyst Richard Cathcart from Espirito Santo Investment Bank said: "At first glance this looks like a good appointment, given Walden's experience of internet and electricals retailing at Best Buy and Sears."
However, Liberum Capital analyst Simon Irwin said: "The group's board was in denial about the extent of change required, and today's announcement does not indicate that this will change." Irwin added that neither Best Buy nor Sears had been conspicuous successes online and Walden had no experience of either the UK retail market or property market. Home Retail has agreed to launch a joint venture with the Haier Electronics Group to develop a multi-channel, general merchandise retail business in China. The venture operations will be branded by Argos and the same will be launched in 2012. Home Retail will have a 49% holding in the joint venture whereas Haier will have the remaining 51% and the operations will be targeted at the Shanghai region.
Brokers' Views:

- Societe Generale recommends 'Outperform' rating on the stock with a target price of 120 pence per share
- Seymour Pierce assigns 'Underperform' rating
- Credit Suisse gives 'Underperform' rating
- Nomura Securities assigns 'Underperform' rating
Earnings Outlook:

- Societe Generale estimates the company to report revenues of £5,486 million and £5,439 million for the FY 2012 and FY 2013 respectively with pre-tax profits (pre-except) of £103 million and £93 million. Earnings per share are projected at 9.17 pence for FY 2012 and 8.34 pence for FY 2013.
- Seymour Pierce projects the company to record revenues of £5,506.60 million for the FY 2012 and £5,350.60 million for the FY 2013 with pre-tax profits (pre-except) of £105 million and £90 million. Profit per share is estimated at 9.10 pence and 7.90 pence for the same periods.
- Credit Suisse expects Home Retail to earn revenues of £5,482 million for the FY 2012 and £5,451 million for the FY 2013 respectively with pre-tax profits of £98 million and £86 million. EPS is projected at 8.52 pence for FY 2012 and 7.53 pence for FY 2013.
Below is a summary of sector comparisons in terms of price earnings, earnings per share, dividend per share, dividend yields, return on equity and price-to-book ratio. The table explains how the company is performing against its peers/competitors in the sector. The table below represents top seven companies based on market capitalisation.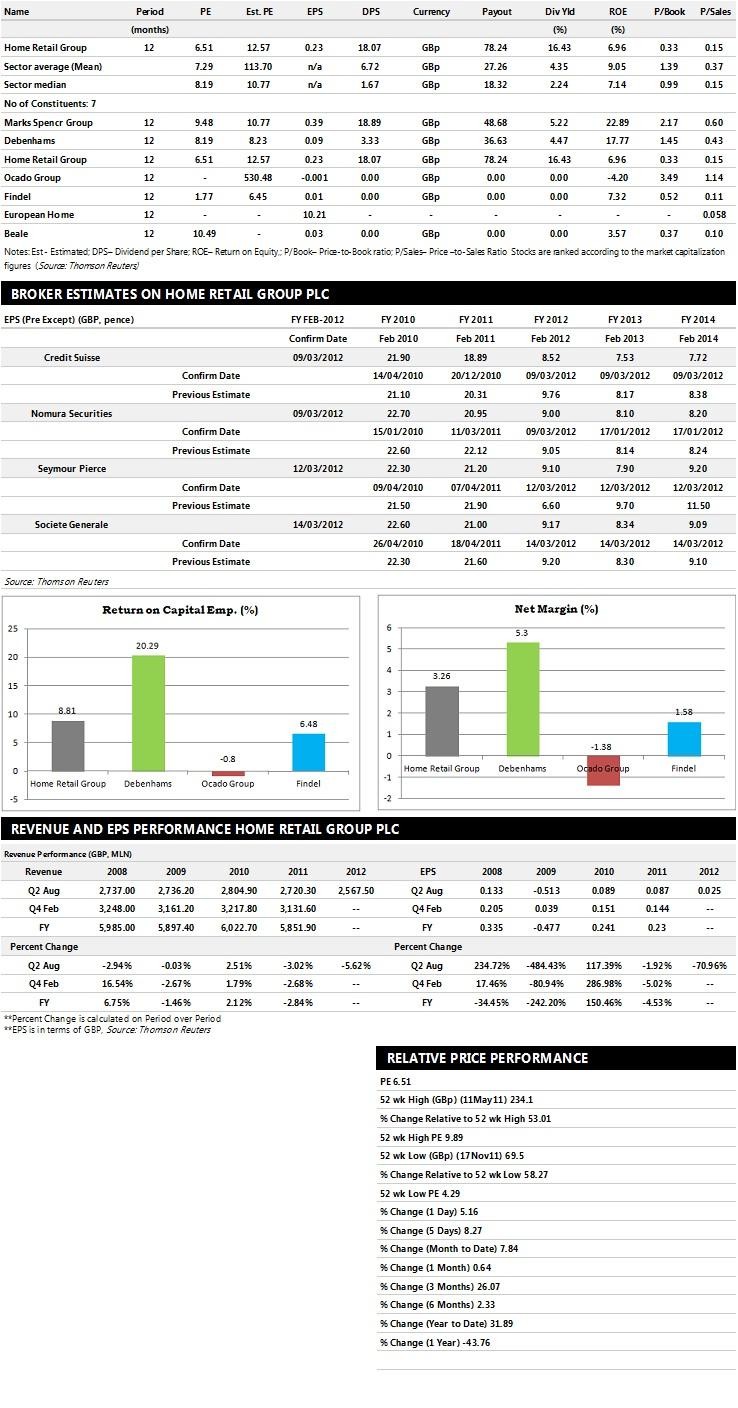 © Copyright IBTimes 2023. All rights reserved.