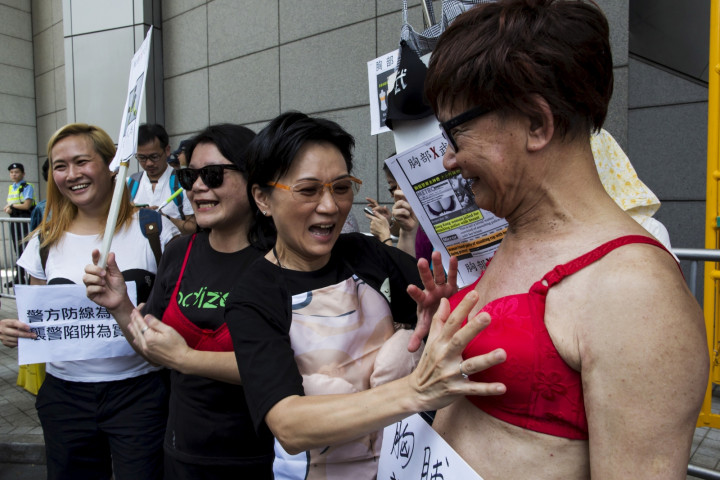 Post the Bare With Us rally in Waterloo, Ontario, where people shed clothes to protect the right of women to go topless in public, 11,600kms away in Hong Kong, protesters – both men and women – are adorning bras to seek justice for a woman.
As ironic as it sounds, a woman in Hong Kong was sentenced to three-and-half months in jail last week, for assaulting an officer with "her breasts".
Terming the verdict as "absurd and sexist", dozens of protesters wore bras and shouted "boobs are not weapons" in front of the Wan Chai police headquarters.
During the trial, Ng Lai-ying was found guilty, but she had claimed that the incident was an "indecent assault" by the police officer, whose hands fell on her breasts, reports said.
However, a deputy magistrate rejected her claim and said: "You used your female identity to trump up the allegation that the officer had molested you. This is a malicious act... [you] harmed the officer's reputation."
Amateur footage of the incident showed the woman falling to the ground while police officers were confronting her. She then re-emerged in the video and there was blood on her face.
Meanwhile, one of the protesters present at the site of the demonstrations said: "I believe we are all baffled as to how a breast attack works. It's ridiculous and alarming that the judge didn't just convict the protester of assaulting police with her breast, but that her seeking help was also considered part of the assault. Should we silence ourselves in the face of sexual violence?"
"If this sets a precedent, the police will not only abuse their power but also strip women of their rights to take part in protests. Sexual harassment becomes a tactic for police suppression," she told CNN.
Another pro-democracy legislator Leung Kwok-hung said the quantum of punishment was an "insult to all the women on this earth. Breasts are the origins of human beings; no one can survive without the breasts of their mothers".
In the unrelated Canadian protests, hundreds of citizens went topless, after an officer had asked three sisters to put on clothes after they were seen cycling shirtless. Since, it is not illegal for women to go topless in Ontario, the women had organised the rally to protect their rights.