Hong Kong democracy protests: Thousands march against vote reform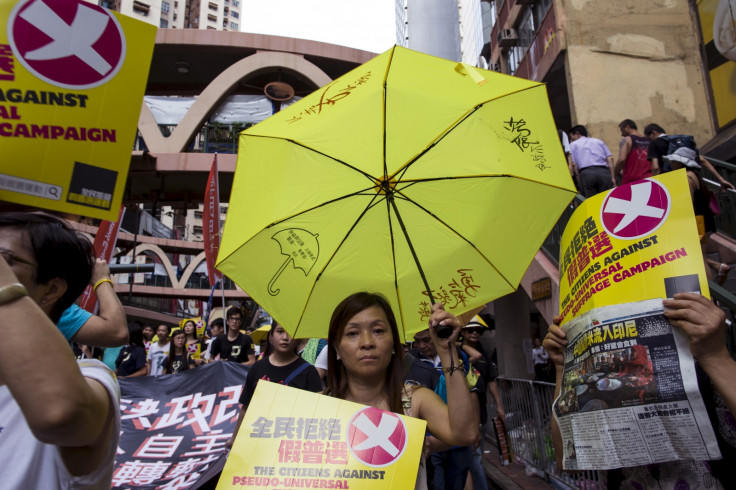 Pro-democracy supporters marched towards Hong Kong's government headquarters to support a veto of the country's electoral reform package.
Organisers say they are expecting around 50,000 people to participate in Sunday's rally, although the latest news reports suggest the turnout is lower than expected. In 70% humidity and with temperatures reaching 30C, demonstrators chanted: "I want genuine democracy" and "Veto fake universal suffrage."
According to an ABC report, a large yellow banner mounted on the back of a truck read "The citizens against pseudo-universal suffrage campaign."
Some protesters were wearing the trademark yellow shirts and carrying yellow umbrellas, symbols of their pro-democracy movement. They marched from Victoria Park and along the shopping district of Causeway Bay to government headquarters.
"We want to say 'no' to the government's proposal," said student Cleo Chui, 21, according to Reuters.
"This is not what Hong Kong people want. The election committee does not represent the voice of Hong Kong – it's pre-screened. That's not real universal suffrage."
Under the reforms which will be discussed on Wednesday, the government proposal would allow direct elections for the first time but require screening of candidates by the panel.
"I hope that they will bring out another proposal that can be accepted by Hong Kong people," said Louis Cheung, a 54-year-old writer. "It's impossible to have an election without the Hong Kong public's opinion and say Hong Kong has universal suffrage. This is impossible to accept."
Chinese Foreign Ministry spokesman Hong Lei said that the proposal was "in line with Hong Kong's current circumstances, taking into account the interests of and appeals from different social groups and sectors in Hong Kong."
Last autumn, the student-led protests closed down parts of the city for 11 weeks to demand greater electoral freedom, turning umbrellas and the colour yellow into symbols of their movement.
Protesters said China was reneging on a promise that the city's top leader would be chosen through "universal suffrage" agreed when Communist leaders negotiated the 1997 handover of Hong Kong from Britain.
© Copyright IBTimes 2023. All rights reserved.