Thousands of people, on Sunday, gathered at Hong Kong's Chater Garden, a public park, to rally and then they marched peacefully to the United States consulate to draw the attention of U.S. officials and politicians including President Donald J. Trump to their cause. Unfortunately, protests at four Mass Transit Railway (MTR) stations and other locations turned violent causing police to respond with batons, tear gas and arrests.
The march was scheduled to begin at 1:30 p.m. Sunday local time (1:30 a.m. EDT) but about three hours later, some groups began vandalizing the Central MTR station by smashing glass panels, painting graffiti, throwing large potted plants down escalators and starting fires using wooden barricades as fire logs.
One MTR employee was struck by a thrown object. Three men were arrested by police and the station was shut down. Similar incidents were reported at the Wan Chai, Mong Kok and Prince Edward MTR stations, but all four managed to re-open by Monday morning.
As the unrest continued, the protesters took to the streets, occupying busy intersections, setting fires and causing businesses to close. Police were able to disperse the rioters, but they simply re-gathered at a different location to resume their activities that lasted well into the night Sunday.
In a separate event, activist Joshua Wong Chi-fung was arrested at the Hong Kong International airport as he was trying to flee the country. He was arrested in August for organizing, inciting and taking part in an illegal assembly during a protest at the police headquarters in June. The current arrest was for violating bail conditions that Wong has denied.
Many people at the peaceful U.S. Consulate rally opined that while Chief Executive Carrie Lam had finally given in to protester's initial demands with her decision to formally withdraw the controversial extradition bill, it was "too little, too late" because the protesters' demands have grown since June when the unrest began.
The U.S consulate was chosen by the demonstrators to get the attention of the U.S. and other western countries. An older protester, Andy Leung Chi-kin, 64, said he felt a sense of duty to support young protesters. He added, "If there's one country that can restrain the Chinese Communist Party, it will be the US."
Other attendees expressed disdain at Beijing. Ousted opposition lawmaker Edward Yiu Chung-yim commented about how China might react, "Beijing will cry wolf and decry foreign interference at every opportunity, but the fact of the matter is we only demand the international community uphold one country, two systems, and the promise of democracy and freedom, which is enshrined in an international treaty."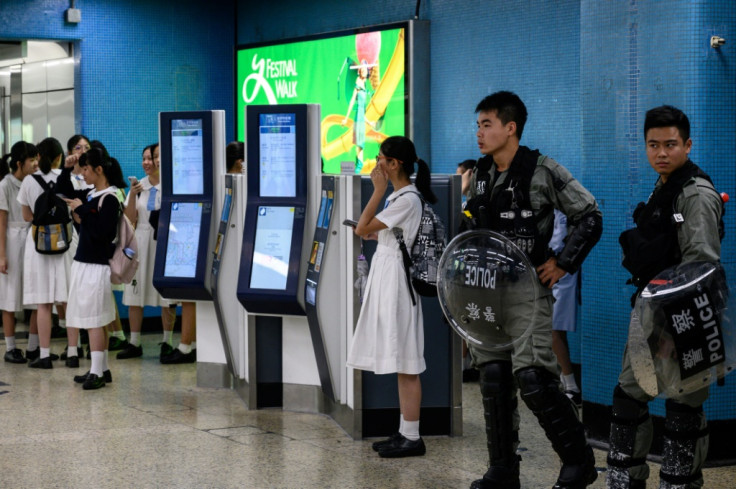 This article originally appeared in International Business Times U.S. Edition