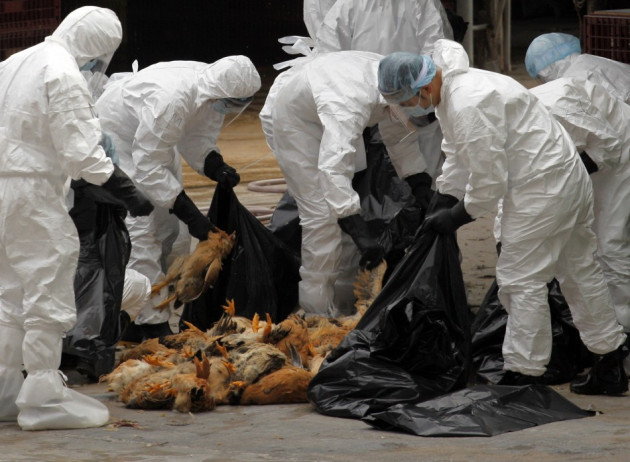 Hong Kong is on high alert after workers began to slaughter 17,000 chickens Wednesday after a chicken carcass was found infected with bird flu.
The measures were announced after the dead chicken was found at the city's main wholesale market, with two more birds also testing positive for the H1H5 avian influenza virus, which can be fatal to humans.
The government has banned imports and the sale of live chickens for three weeks as a precaution and closed the market where the infected carcass was found.
The city's flu alert system has also been raised to "serious," leading to an increase in monitoring for influenza at hospitals.
"I understand that it will cause inconvenience to the public, and the poultry trade will also encounter losses," said York Chow, Hong Kong's secretary for food and health.
"However, to safeguard public health, we need to adopt decisive and effective measures to prevent and control the spread of the virus," added Chow.
On Tuesday, authorities confirmed that an oriental magpie found dead at a secondary school had tested positive for the H1H5 virus.
This was the second case was in a week, after another secondary school last Friday was forced to close after a dead black-headed gull was found with the virus.
Hong Kong was the site of the first major outbreak of bird flu spreading among humans in 1997, when six people died after being infected.
Hong Kong is particularly sensitive about infectious diseases after an outbreak of the deadly respiratory disease SARS killed 300 people in the city and a further 500 worldwide.
The virus, which does not pass easily between humans, has killed more than 330 people worldwide since 2003, around 60 percent of the number of people infected.
Scientists in the Netherlands have recently developed a stain of bird flu which could be easily passed between humans, which has the potential to kill millions worldwide.
The Dutch scientists believe the research is vital in order to come up with new vaccines and drugs to combat the deadly virus, but authorities believe the information could be used by terrorists as a bio-weapon of mass destruction.