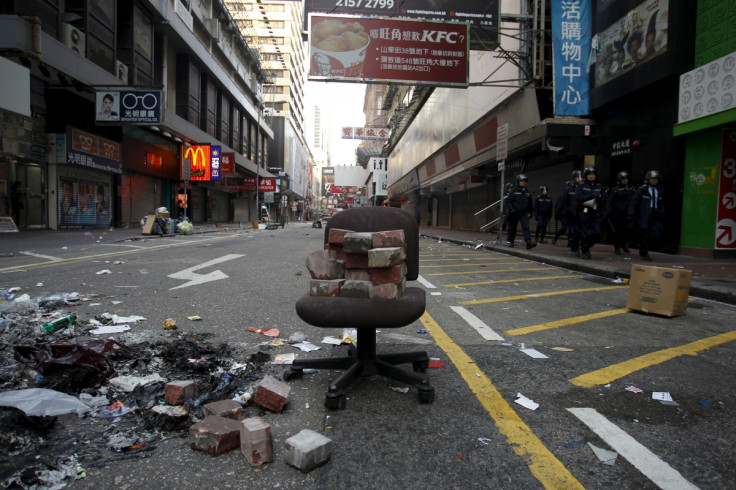 A top-ranking Chinese political figure is set to land in the semi-autonomous city of Hong Kong on May 17, triggering high-level security measures. This could be one of the biggest security operations, the city has witnessed in recent years.
As many as 6,000 security personnel have been deployed ahead of the visit by Zhang Dejiang, who is in charge of Hong Kong affairs in Beijing, as pro-democracy protesters are expected to take to the streets. Zhang is also the chairman of National People's Congress Standing Committee and will be in the former British colony on an official three-day visit.
All 6,000 officers would move along with the Chinese leader during his stay in the city. The security cover includes officers from the Counter Terrorism Response Unit and elite commandos. Key arterial roads have also been shut prior to his visit to streamline the flow of traffic.
The high-profile visit comes at a time when Hong Kong is facing a difficult situation as the masses are demanding complete independence and have been protesting against China's influence in the city. Zhang is the first top Chinese authority to visit Hong Kong ever since the region plunged into chaos in 2012 over calls for democratic reforms.
"It is really time for him to meet with non-establishment legislators... to hear our analysis of how Hong Kong ended up where we are today, and what are the ways forward," Civic Party's lawmaker Alan Leong – one of the pro-democracy leaders who is set to meet Zhang – told AFP.
Pro-democracy groups have pledged to demonstrate while the Chinese leader is in the city, but government authorities have implemented measures in ensure no such incidents occur.
Although the official purpose of the leader's visit is the economic conference to be held on 18 May, the trip is likely seen as China's attempt to tighten its grip over Hong Kong.