The horror continues in Syria as parachute bombs target rebel-held areas of Aleppo and Damascus
Parachute bombs take longer to hit the target, allowing aircraft to avoid fire.
Airstrikes from the Russian-backed Syrian airforce have resumed on the rebel-held parts of Syria, particularly in the west and southwest countryside of Aleppo and in areas east of Damascus.
In a particularly horrific attack, a kindergarden was hit by an airstrike on 6 November, killing at least six children in rebel-held East Ghouta town of Harasta, east of Damascus. The government forces have also attacked the nearby area of Douma, with as many as 15 airstrikes causing several buildings to catch fire as well as an undeclared amount of casualties. The Syrian Civil Defence was filming its efforts to save civilians following the attack today (7 November).
On Saturday 5 November, the day after the end of the 10-hour Russian ultimatum, a spokesperson for the Russian Defence Ministry, Major-General Igor Konashenkov, told the Russian press that Russian and Syrian aircrafts were observing the 19th day of no airstrikes over Aleppo.
Yet, a day earlier, a parachute bomb hit civilians in the town of Kafr Naha, north of Aleppo. Parachute bombs are explosive devices to which a parachute is attached to delay the impact on the ground, allowing the aircraft carrying the bomb to avoid fire. Both Russian and Syrian airforces have been known to use parachute bombs in Syria, although it is unclear what kind of bomb and which aircraft dropped those filmed exploding in a tall mushroom cloud of smoke in several videos shared on social media.
The Syrian Civil Defence, also known as the White Helmets, claimed 13 people died and 20 were injured. In a photo shared on Twitter, the White Helmets showed a bleeding little girl covered in dust from the rubble.
Another 15 people were killed by a parachute bomb in the town of Dar Ta Izzah, west of Aleppo, on 6 November. On the same day, a few kilometres southwest of Dar Ta Izzah, airstrikes targeted a market in the town of Dana. Syrian journalist Ammar Bakkor was reportedly among the casualties.
The Syrian Observatory for Human Rights puts the civilian death toll at 30 casualties in Aleppo just on 6 November, after counting 17 deaths in the shelling of the west and southwest countryside of Aleppo between 5-6 November.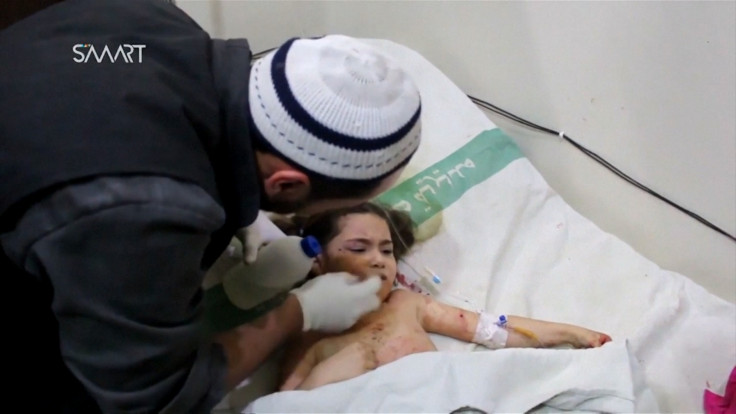 © Copyright IBTimes 2023. All rights reserved.