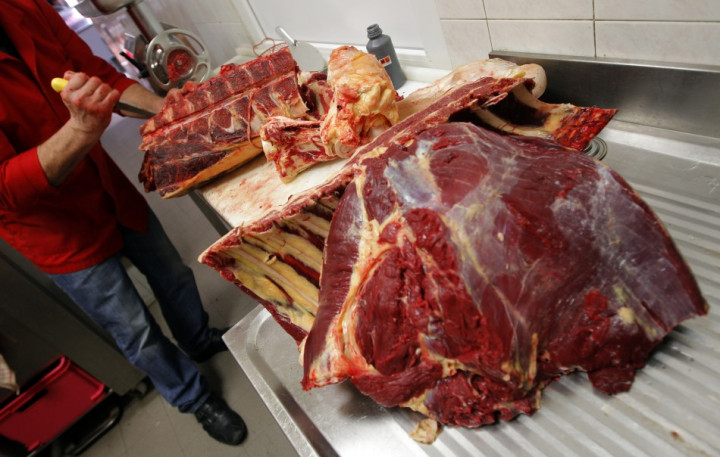 Meat samples seized by horsemeat investigators at three sites in the UK have been passed to Europol, along with computers, documents and other evidence.
Officers from the Food Standards Agency are conducting further tests on meat samples taken from two premises in north London and one in Hull after several raids earlier this week.
Inquiries are continuing at Farmbox Meats near Aberystwyth, the FSA said.
Three of the five men arrested on suspicion of fraud in connection with the horsemeat investigation have been realeased on police bail.
Farmbox Meats owner Dafydd Raw-Rees, 64, a 42-year-old man from Wales and a 63-year-old man from the Peter Boddy Slaughterhouse in Todmorden, West Yorkshire, have been released.
The FSA said it has passed a "full file" on its investigation to EU law enforcement agency Europol and the information was being analysed in 35 countries in Europe and elsewhere.
Dinos & Sons Continental Foods of Tottenham was identified as one of the premises raided in London. The company released a statement saying it was co-operating with officials.
"At no time has Dinos & Sons produced or manufactured anything that is under investigation or is the subject of any possible contamination or mislabelling," it said.
Environment Secretary Owen Paterson said he wanted all other tests to be completed by the end of next week.
"It's up to the food businesses to carry out the tests, to organise their businesses and to provide quality products," he said.
Tests have found around 1 per cent of all products contained significant amounts of horsemeat. The deadline for initial tests on processed beef products was Friday.
Fresh tests on 2,501 products found 29 positive results in seven products which had previously been withdrawn.
Pressure mounted on the government over the speed of its response, with Labour leader Ed Miliband calling the reaction to the crisis "too slow".
"I think the retailers do have a responsibility but I also think the government has not been as sure-footed as it should have been in its handling of it," said Miliband.
"I think they've been too slow to get a grip on this situation. We want this resolved quickly."
Defra rejected the charge, with a spokesman calling his remarks "utterly wrong and misleading".
Tesco and other supermarkets attempted to limit the damage by stepping up advertising in national newspapers, and placing videos on YouTube in an effort to placate consumers.
Tesco chief executive Philip Clarke promised the supermarket would provide customers with a "better alternative" at the same cost if any Tesco product tested positive for horsemeat in the future.
"Since we became aware that a small number of Tesco processed meat products have been contaminated with horsemeat, we have been working flat out to get to the bottom of the issue," he wrote in an apologetic email to customers.
"While tests continue, today I want to make a clear promise to customers and to tell you about the rigorous processes we have put in place to prevent this situation happening again."
Co-op chief Peter Marks said there had been a "breakdown in trust" between retailers and customers over horsemeat in beef.
The National Farmers Union also placed adverts in national newspapers, and urged consumers to "Buy British".
NUF president Peter Kendall called on supermarkets to source their meat from the UK, saying he wanted to "brag about the traceability" of British meat.
"Farmers are very proud of what they produce and are, quite rightly, furious about this current situation. They feel let down by what looks like a criminal element in an isolated part of the food chain," he said.
The NFU said it would champion British produce as a direct response to the contamination and mislabelling of beef products.
Traces of horsemeat were initially found only in processed meat products such as burgers and lasagnes bought in supermarkets, but pubs, restaurants and hotels have also been affected.
Cottage pie served to children at 47 schools in Lancashire has also tested positive and has been removed from menus. Hospitals in Northern Ireland have also been forced to remove burgers from their menus after horsemeat was found.