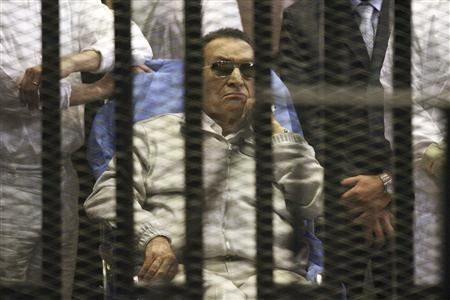 Egypt's former president Hosni Mubarak has gone on trial for a second time over his role in the killing of hundreds of protesters in the 2011 revolution that led to his overthrow.
In live broadcasts, Egyptian state TV showed Mubarak being stretchered into court for the retrial after his conviction last June was overturned on appeal.
Mubarak will share the dock with his former interior minister Habib al-Adly and six security officials.
Mubarak is also being tried on corruption charges, along with his sons Gamal and Alaa. The businessman Hussein Salem is being tried in absentia.
The retrial was originally scheduled for 13 April, but the judge referred the case to another court, saying he felt "unease" over the case.
Today's hearing in Cairo will be largely procedural, with Mubarak and the other defendents expected to enter pleas in response to the charges.
The former president, who was imprisoned last June after leading the country for 29 years, was sentenced to life imprisonment along with al-Adly for his involvement in the killing of 846 people during the 18-day revolution, but the high court ordered a retrial after they won their appeal on grounds of procedural error.
Amid tense scenes on Saturday 11 May, judges were forced to call for order as lawyers became involved in heated argument. Mubarak and his sons were read charges that they used undue influence to acquire villas worth $39 million, and earned kickbacks by exporting gas to Israel at artificially cheap prices.
Mubarak, 85, sat upright on a hospital gurney as he was wheeled into a cage reserved for defendants. His two sons stood alongside him, dressed in white prison uniforms, .
Wearing aviator sunglasses, Mubarak raised an arm to confirm his name as judge Ahmed al-Rasheedy read a list of the accused at the start of the session. "Present," said Mubarak.
The case has exposed the difficulties of delivering justice in a country where the judiciary and security forces are still largely controlled by figures appointed during Mubarak's period in power.
On Wednesday, an appeals court refused the prosecution's appeal of a verdict that exonerated two dozen defendants over an incident during the revolt in which men on camels attacked protesters in the capital's Tahrir Square.
The mother of a victim killed in the uprisings, Umm Moaz, dismissed the new trial as a sham.
"At this time, I don't trust anyone, not even the court overseeing the retrial. I have no hope that they will ensure justice for my son or any martyr. My whole life has been turned upside down," she told the AFP news agency.
Last month Mubarak was transferred from a military hospital to prison after his health was deemed to have improved