Britain's vote in favour of leaving the European Union could have a huge impact on the country's hospitality and catering sectors, with EU employees at risk of losing their jobs if the UK opposes freedom of labour movement.
The hospitality and tourism sector is the fourth-largest employer in the UK, with 10% of the workforce employed in 180,000 businesses, including independent restaurants, major hotel chains and visitor attractions.
According to estimates from the British Hospitality Association (BHA), over the course of the last parliament, the industry created almost 600,000 jobs, representing a third of all job openings in the UK in the period.
Highlighting the industry's reliance to foreign employees, a study published by the Migration Observatory at the University of Oxford found that, in 2015, only 4% of the workforce across the sector was British.
However, with the 'Leave' campaign securing 52% of preferences at last week's vote, access to Britain for EU nationals could be restricted, if the UK eventually triggers the Article 50.
"Putting up border controls and stopping the free movement of labour which now seems likely would have a large effect on the hospitality industry," Nick Bolton, co-founder, and director of operations at hospitality agency Rota, told IBTimes UK.
"Under a points based system, we have estimated 90% of the EU nationals that currently work for Rota would not have been able to obtain a working visa."
Bolton warned that with 442,000 EU migrants working in Britain's restaurants and hotels this shortfall would need to be filled by British people resulting in an increase in wages. "Labour accounts for around 25% of a well run venue's costs so any increases will need to passed onto to consumers and would certainly result in increased cost of eating out for the UK public," he said.
"There is already an industry wide staffing crisis particularly for chefs, and any broader controls are only going to increase this problem."
Jacqui Sterry, managing director at London-based Mise en Place Catering and Hospitality Recruitment, explained the industry would have to deal with the outcome of the vote, although she indicated the future remained unclear. "We have obviously not registered a significant change so far, as the vote only happened last week," she said.
"Our agency employs both British and foreign staff, a lot of whom come from European countries and therefore we do expect to see some sort of impact in the future. That, however, will depend on how things will pan out and what kind of trade deals can be put be in place."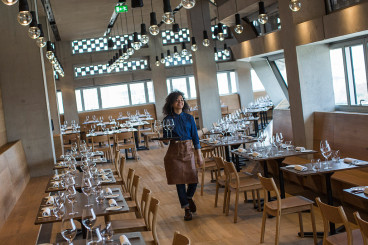 The referendum has plunged Britain into financial and political turmoil, prompting firms in a number of sectors to put hiring and investment on hold. Sterry, however, does not foresee a similar trend in the hospitality industry. "I don't think companies will stop hiring EU nationals, not until there is some clarity on what the future holds," she said. "Most people will probably carry on as far as hiring is concerned."
Employers remain cagey, as both the referendum's result as well as emotions in its wake are fairly raw.
A branch manager at a Pret A Manger store in East London, who declined to be named, expressed disappointment regarding the outcome but said it was too soon to determine what impact the vote could have on the chain's workforce. Managers at a McDonald's restaurant in North London and Cafe Nero outlets at major railway stations expressed similar levels of dismay while flagging up the uncertainty of the outcome.
However, Bolton forecasts a change in the hiring patterns within the industry. "From a temporary recruitment point of view we will continue to hire as we believe demand will increase as permanent hires are put on hold throughout the industry," he said.
"After speaking to a number of our clients they are all on hiring freezes and turning to us as an alternative which requires no commitment to workers."