Gunmen posing as military forces took dozens of people hostage in a restaurant in Somalia's capital Mogadishu on Wednesday (14 June) after a car bomb attack, police said. At least 14 people are dead, including two gunmen who were shot dead.
The hostage situation began after a car bomb exploded at the restaurant gate, in an attack claimed by al Shabaab militants.
Militants initially held 20 people hostage, police said. "The fighters are still inside the Pizza House and they are holding over 20 people. We do not know how many of those are dead or alive," Ibrahim Hussein, a Mogadishu police major, told Reuters.
Witnesses said police cordoned off the district surrounding Pizza House restaurant.
According to The Guardian, 10 hostages were rescued and two gunmen were shot dead but five attackers were believed to remain inside. Hussein added: "A suspected car bomb is also parked in front of Pizza House. This and snipers have made it difficult for the security forces to head inside."
Police said nine people were killed in the initial attack, but the death toll was expected to rise. The Associated Press reported the death toll rose to at least 14, including foreigners.
Witness Nur Yasin told the AP that the gunmen were dressed in military uniforms. "They forced those fleeing the site to go inside" the restaurant, Yasin said.
The attack was claimed by al Shabaab, which has carried out a series of suicide bombings in an attempt to overthrow the Somali government, Reuters reported.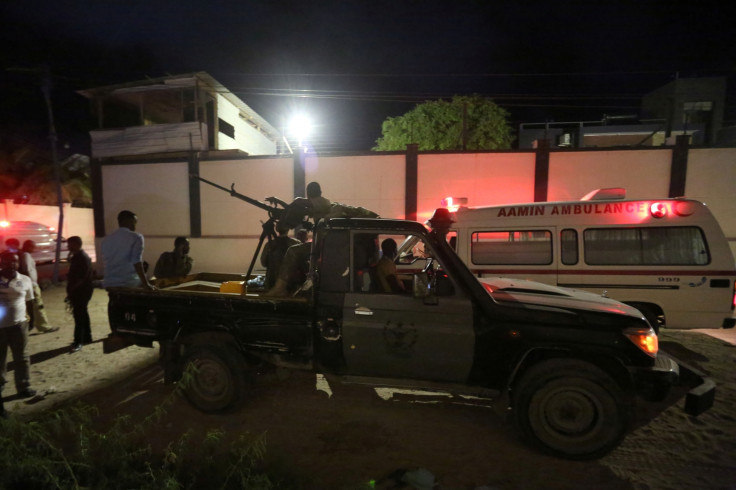 "A mujahid (fighter) with his suicide car bomb martyred himself after he rammed into the Posh Hotel, which is a nightclub. The operation goes on," said Abdiasis Abu Musab, the group's military spokesman.
Washington-based Africa Center for Strategic Studies reported al Shabaab became the deadliest Islamist extremist group in Africa after it killed more than 4,200 people in 2016. After losing large portions of territory to African Union peacekeepers, al Shabaab has launched frequent attacks and raids in Mogadishu and other regions controlled by the government.