Two arrested in connection to protest fight outside Turkish embassy
Both men were part of security detail for Turkish President Recep Tayyip Erdogan.
Two Turkish men were reportedly arrested by US Marshals on Wednesday (14 June) in connection to the assault on protesters outside the Turkish Embassy in Washington DC in May.
"Now that charges have been filed, the Department will weigh additional actions for the named individuals, as appropriate under relevant laws and regulations," the State Department said in a statement to the Daily Caller (TheDC). "Any further steps will be responsive and proportional to the charges."
The men were identified as Eyup Yildirim and Sinan Narin by the Washington DC Metro police department.
Yildirim, from New Jersey, is charged with felony assault with significant bodily injury, felony aggravated assault, and misdemeanor assault or threatened assault in a menacing manner. According to TheDC, footage shows Yildirim kicking a female protester while she was on the ground.
The female victim, Lucy Usoyan, said she was diagnosed with head trauma at a hospital after the assault and told she needed six weeks to recover. The Kurdish activist told TheDC that she feared for her life during the beating.
Narin, from Virginia, is charged with felony aggravated assault and misdemeanor assault or threatened assault in a menacing manner. He was first identified by The New York Times in May. Narin acknowledged to the Times that he also kicked Usoyan but claimed he believed she was a man.
Yildirim and Narin were part of a group of pro-government supporters who attacked a group of protesters demonstrating outside of the Turkish Embassy. The group of supporters of Turkish President Recep Tayyip Erdogan were filmed punching, kicking and beating the protesters. Erdogan was caught watching the attack unfold from his vehicle, TheDC reported.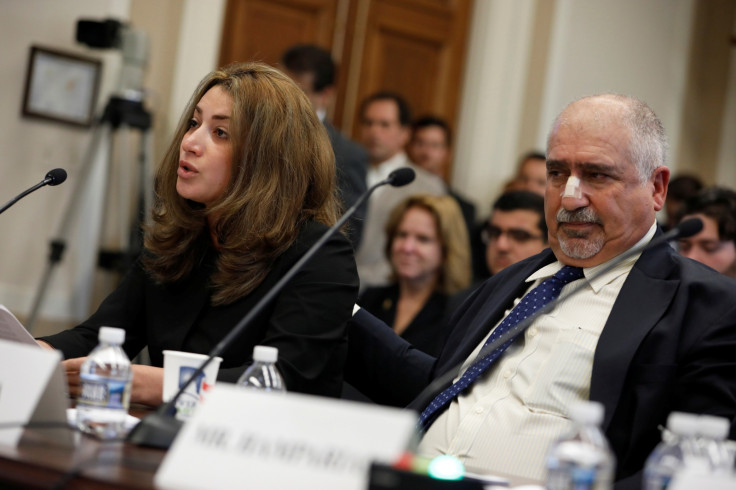 Criminal charges against 12 members of Erdogan are set to be announced Thursday (15 June), The Washington Post reported. Police officials said that arrest warrants have been issued and all suspects, who are believed to be in Turkey, are now wanted in the US.
At least 11 people were injured in the brawl. The Turkish Embassy claimed that Erdogan's bodyguards acted in "self-defence" and accused the protesters of being affiliated with the terrorist group PKK, according to The Hill.
The incident prompted condemnation from both Democratic and Republican lawmakers. "President Erdogan, you would do well to remember that this country is built on free speech, free religion, free press, & freedom to protest," Senator Ben Sasse (R-Neb) tweeted.
According to Foreign Policy, the House of Representatives unanimously passed a bill condemning the Turkish government over the attack.
Meanwhile, the US ambassador in Ankara was summoned to the Turkish Ministry of Foreign Affairs over what it called "aggressive and unprofessional actions" by US law enforcement against Turkish bodyguards.
© Copyright IBTimes 2023. All rights reserved.