: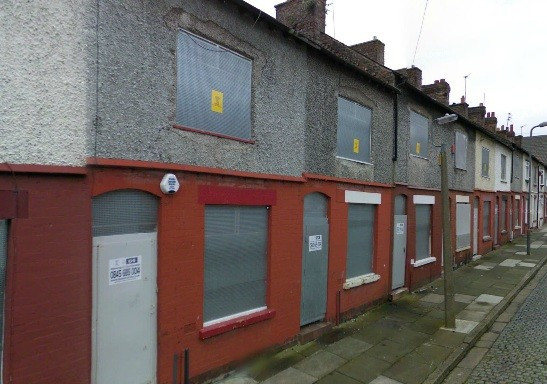 Houses originally bought for £70,000 are to be sold off for as little as £1 after a failed bid to regenerate the area in inner-city Liverpool.
Bought under former deputy Prime Minister John Prescott's regeneration Pathfinder scheme, the Victorian terraced homes in Kensington will now be sold-off at nominal prices to DIY enthusiasists hoping to improve them.
Each sale will include a clause for any potential buyers who must prove they will use their "construction skills" to develop the homes in an area known as the Granby Triangle.
The surreal price tag for a stake in the boarded-up Victorian terraces is the polar opposite to the world of Kensington's namesake in central London, a district of untold luxury and incredible property inflation for an immaculate Georgian terrrace mansion starting at £3.3m.
The decision to sell the houses at such a low price comes after Liverpool council broke off a £25m regeneration deal with developer Leader1, which failed to sign the contract in time to meet agreed deadlines.
Liverpool's deputy mayor and finance chief Cllr Paul Brant said the new sell-off scheme "allows people who may be excluded from mortgages but have construction skills to play a part in the regeneration of their communities.
"We've seen that the private sector model has not succeeded so far and, through this way of doing things, if there is any profit it will stay with local people."
Pennies Lane
The Granby Triangle project was part of a wider plan to destroy thousands of decaying properties and regenerate vast swathes of the country.
Around £2.2bn was spent demolishing homes, but the scheme received criticism when not enough new homes were built for displaced occupants and many are still believed to be on a waiting list for a new home.
Jonathan Brown, spokesman for the Merseyside Civic Society, said: "This is what we have been pushing for for years and it's fantastic to see it come to fruition.
"The houses are an asset for the community and the public need them.
"It gives the opportunity for young, local people to learn skills in regeneration and construction and give something back to the area.
"I think this is a prime example of the council biting off more than they can chew.
"We fought against Prescott's scheme and it's great to have won all these years later.
"Local people have been let down over and over again for decades. I hope this now rolls out to other areas of the city in desperate need of regeneration."
READ: How to Buy a £1 House in Liverpool