Not for the first time in 2016, Andy Murray is very much a man in form.
After sealing his 40th career singles title at the China Open last weekend, the reigning men's Wimbledon and Olympic champion continued his dominance in East Asia on Sunday (16 October) as he beat Roberto Bautista Agut to triumph at the Shanghai Masters for the third time in six years.
The 29-year-old has now won each of his last 23 sets since an exhausting and costly defeat to Rio adversary Juan Martin del Potro in the opening rubber of last month's Davis Cup semi-final tie against Argentina. That 13th ATP World Tour Masters 1000 victory also handed Murray another boost in his bid to surpass 13-time Grand Slam winner Novak Djokovic and end a memorable year as the first British player of the modern era to hold the title of world number one...
What is the current state of the race?
ATP rankings
1. Djokovic: 12,900 points
2. Murray: 10,485 points
Race to London rankings
1. Djokovic: 10,600 points
2. Murray: 9,685 points
Having each played in 17 tournaments so far this year, number two Murray currently trails his old rival by 2,415 points atop of the new overall rankings released on Monday. However, he is now only 915 behind in the annual Race to London, an annual process determining qualification for the season-ending ATP World Tour Finals which take place at the O2 Arena between 13-20 November.
Murray received the statutory 1,000 points for his Shanghai Masters win, with an out-of-sorts Djokovic, who missed the China Open due to an ongoing elbow injury, smashing a racket and ripping his T-shirt in frustration during a 6-4, 6-4 semi-final loss to Bautista Agut.
What tournaments are left in 2016?
Murray will play at the Erste Bank Open 500 event in Vienna next week, a tournament he won with victory over David Ferrer in 2014, before competing at the final ATP World Tour Masters 1000 event of the year – the BNP Paribas Masters. Djokovic, the defending champion in Paris courtesy of last year's win over the British number one, will not feature again until reconvening in France on 31 October.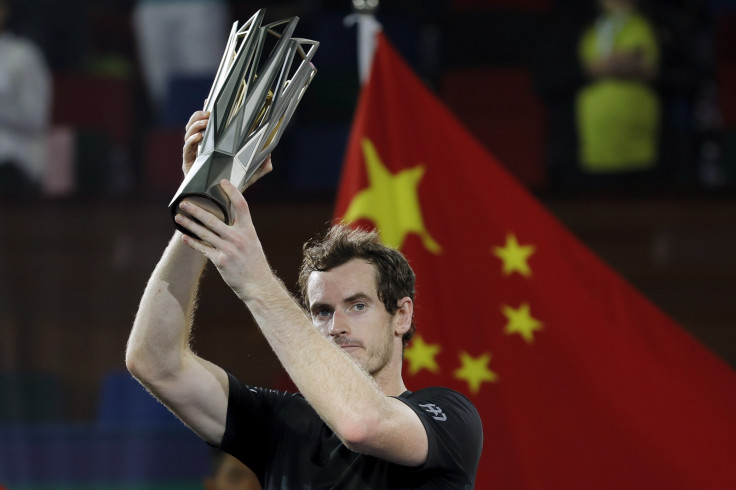 How can Murray overtake Djokovic?
Murray can earn the number one ranking before London by winning both of those aforementioned tournaments for a combined 1,500 points while hoping that Djokovic, who has held the top ranking for 27 months, does NOT scoop 600 by making the final in Paris. This is made possible by the fact that the latter's combined 2,300 points received for winning last year's BNP Paribas Masters and a record fourth consecutive World Tour Finals title will expire on 7 November.
"I have a chance now," an increasingly hopeful Murray said after beating Bautista Agut. "I'm not suggesting I have no chance of getting to No. 1. I'm still aware of how difficult it is going to be to get there. But I believe I can get there. I definitely believe I can get there. These last few months have proved that to me. I'll give it my best shot to do it, because I may never get another chance. I may never get another chance to be No 1, so I'll give it my best shot to do that while I have the opportunity.
"I still have to win three more tournaments. That's not an easy thing to do. I have never had success like I have had the last few months in my career, so to keep that going, I'm aware it's going to be a difficult thing to do. I need to keep myself motivated and be smart with my schedule and my time off, as well."
How many ranking points can be earned at the ATP World Tour finals?
The ATP World Tour finals in London offers 1,500 points for an undefeated champion, comprising of 500 for the final win, 400 for getting through the semi-finals and 200 for every victory during the initial round-robin phase. Murray has a surprisingly moderate record at the O<sup>2 Arena though, having never reached the final.