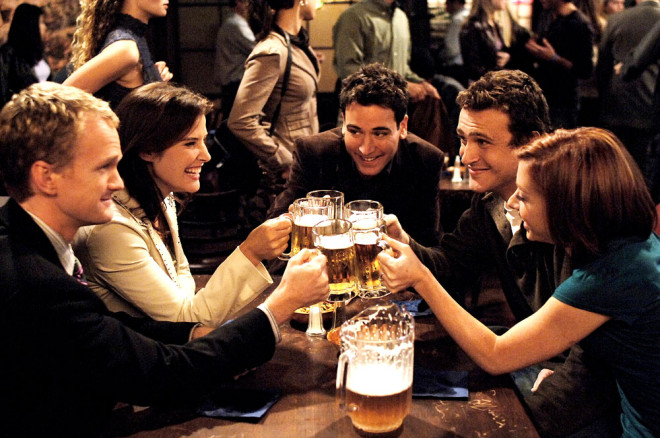 The shocking twist in the How I Met Your Mother finale hurt fans and the wounds are still afresh even after one month.
Ted took almost nine years to narrate the story of how he met his children's mother but during the finale, viewers learned that the Mother is actually dead and while Ted is standing outside Robin's apartment in order to propose her.
But Alyson Hannigan, who played Lily in the popular sitcom, thinks that the funeral scene of Tracy (The Mother) might just have softened fans' feelings a bit.
In an interview, Hannigan revealed to Tvline that the finale of HIMYM is 18 minutes shorter than the script at the final table read, as producers have actually cut the funeral scene of Tracy because it was too 'heart-wrenching' for the finale:
"Honestly, if you saw [that] cut, it would be even more heart-wrenching than what the finale was. They were like, 'No. It's just too gut-wrenching.' And I was like, 'That's what I want. I want my heart ripped out and slammed on the floor and, like, stomped on!'" Hannigan told TVLine during the interview.
But Hannigan also believes that the audience could have connected better with Ted Mosby if they had gotten a chance to see him mourning over the death of his love.
"Maybe it's just me trying to make myself feel better about [the fans'] disappointment... but you know how if you're in a relationship and you get dumped, you'd rather be mad at the person? I feel like maybe they're just like, 'Well, that's all right. You sucked anyway!' That they just want to be mad at us for leaving them. They want to go out, like, angry, because it's easier for them."
CBS's How I Met Your Mother is one of the most popular sitcom, which aired its series finale last month and ended with the death of the mother Tracy and Ted proposing to Robin.
But fans were outraged over the disappointing ending and this forced the show creators to feature an alternate happy ending, which will be included in the upcoming complete series DVD set.