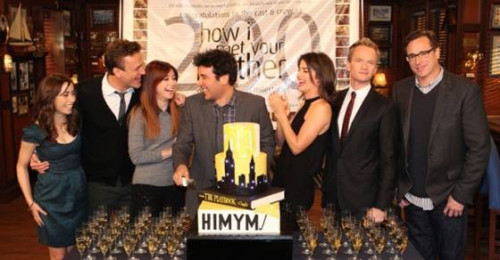 The first script reading of How I Met Your Mother series finale appears to have been a super emotional one, based on what cast members shared on the social media.
The producers of the show chose Valentine's Day, of all days, to have the final episode's reading with the cast, reports Zap2it.
Here's what some of the actors and series co-creator Craig Thomas tweeted after the reading:
Umm...so this is how the last HIMYM Table Read went for me. #sorrytrees pic.twitter.com/UApWvPbbOM

— alyson hannigan (@alydenisof) February 14, 2014
Read the HIMYM series finale script on the treadmill at the gym this morning. People probably thought that was sweat in my eyes. Suckers. — Josh Radnor (@JoshRadnor) February 14, 2014
Just finished the initial read thru of the final How I Met Your Mother. Ever. Holy moly. Just... holy dang moly. #soproud

— Neil Patrick Harris (@ActuallyNPH) February 14, 2014
Final #HIMYM table read -- there are no words. — Craig Thomas (@HimymCraig) February 14, 2014
The HIMYM hour-long series finale titled Last Forever is scheduled for 31 March. As the show comes to an end, here's what the stars of How I Met...are up to next:
Alyson Hannigan (Lily) has already lined up a new pilot for a TV show titled More Time With Family. The project has Ben Affleck and Matt Damon as executive producers. Jason Segel (Marshall) is looking at pursuing films. Neil Patrick Harris (Barney) is off to Broadway for some time and Josh Radnor (Ted) could be looking at some more directorial opportunities post his last venture Liberal Arts, reports CarterMatt.
Cobie Smulders (Robin) stands a good chance of landing another major role on TV. Thanks to her association with Marvel (she played Shield agent Maria Hill in The Avengers) one may see more of her on Agents of SHIELD.