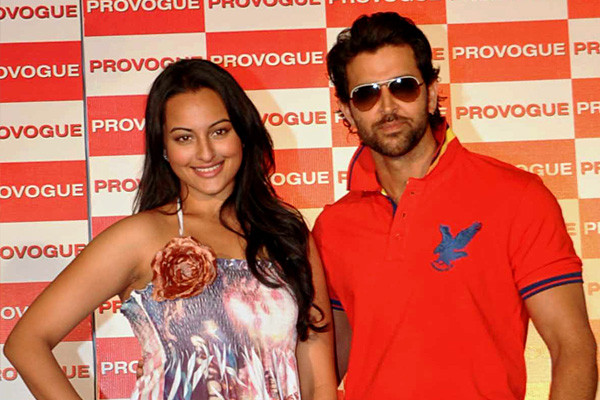 Looks like Hrithik Roshan and Sonakshi Sinha might be seen together on the big screen for the very first time in director Ashutosh Gowariker's (Lagaan, Jodha Akbar) next film - Mohenjo-Daro.
The Dabangg actress is rumoured to beat Katrina Kaif to star as the leading lady opposite Roshan in the period film, according to Bollywood Life.
Apparently, Sinha is very keen to be a part of Gowariker's mega project Mohenjo-Daro.
Although it has not been officially announced yet, rumours surrounding the film suggest that Roshan has been finalised as the male lead. Both Roshan and Gowariker collaborated previously on the super successful Jodha Akbar.
"We'd heard that Katrina Kaif was being strongly considered for the period drama but now we hear that she will be facing competition from the Dabangg girl Sonakshi", states the BL report.
Reportedly, a source close to Sinha said, "Sonakshi had an over hour-long meeting with Ashutosh a few days ago and discussed the intricacies of the role. She is quite kicked about the part as it is something she hasn't attempted yet."
The source added, "Hrithik has already been confirmed. If Ashutosh locks Sonakshi, it will be the first time the two will be seen as a Jodi (pair) on screen."
Sinha's chances of bagging the role seem even higher after the source went on to describe the character which apparently suits the actress's 'Indian' look:
"The role requires the leading lady to look exotic, but in a very Indian way. Sonakshi looks the part. However, Ashutosh will take a final call once he wraps up the TV show on Mt Everest, which he is producing," the source added.