There is a story about a small branch of a UK bank where a wealthy client opens an account and starts depositing £1m in cash each week. After a couple of weeks, the staffer handling the account tells his manager about this and says: "Shouldn't we do something?" The bank manager says yes - what about taking the client to lunch.
HSBC appears to be trying to invoke the same sort of naivety relating to a regulatory climate dating back to the mists of 2005, when compliance was not so tight, and it was unusual - but OK - to withdraw £2m (€2.7m, $3m) in cash from a very large hole in the wall somewhere.
The HSBC files relating to the period between 2005 to 2007, which were appropriated by French IT expert Hervé Falciani in 2007, will lead to an investigation of some 30,000 accounts holding almost $120bn of assets.
HSBC, which acquired its Swiss banking division in 1999, admitted in a statement that the subsidiary's past "compliance culture and standards of due diligence... were significantly lower than they are today".
Oh dear. So far, analysis of HSBC's files have thrown up so-called "black accounts"; enormous cash withdrawals in "bricks" of various currencies; allegations of criminal activities such as drug dealing linked to accounts; and a vaguely familiar story of ultra-high net worth individuals whose dodgy financial affairs were valued too highly by the bank to be brought to book – like the regional bank manager in the joke.
Swiss banks UBS and Credit Suisse must be watching with interest – now it is HSBC's turn to face some rough tax justice. Of course a light can be shined but can the word "justice" ever truly be applied to the shadowy world of offshore banking?
UBS revelations via whistleblower Bradley Birkenfeld
The US Department of Justice and the IRS first took the fight to Swiss bankers following the revelations of UBS private banker/turned whistleblower Bradley Birkenfeld back in 2007.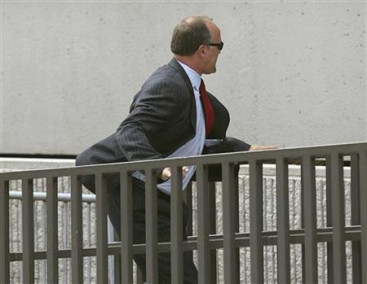 At first UBS invoked its legal right to silence under Swiss law but this was steamrollered by US tax authorities, backed by the full weight of US law.
It looked like UBS would ultimately have its banking licence revoked in the US; it bowed down and agreed in 2009 to pay $780m to the US in a deferred prosecution agreement.
At that time, a handful of big-ticket US tax avoiders were named and shamed.
What also came to light were the fascinating activities of certain UBS private bankers, armed with encrypted laptops and untraceable mobile phones, smuggling assets in and out of the US. It was headline-grabbing stuff.
A large scale routing of the Swiss banking industry followed, which saw Credit Suisse also come a cropper and heralded the complete closure of some smaller, centuries-old Swiss banks. But the arm of justice can only stretch so far in the case of such high-level financial dealings.
Raoul Weil saga
In 2014, former UBS wealth management boss Raoul Weil was lifted on an international arrest warrant after he strayed into Italy while on holiday with his wife. Weil, who was indicted in 2008 as the DoJ's investigation gathered momentum, was by far and away the most senior Swiss banker to face a court appearance.
At the time, a source close to UBS whistleblower Birkenfeld, assured there was no way Weil could ever be allowed to testify in open court.
Why? Because the sort of information Weil knew supposedly went beyond just dishing dirt on UBS. He allegedly knew the identities of so-called "politically exposed persons" with Swiss accounts at UBS – senators, heads of state, that kind of thing.
These "PePs" went right to the very top of the US establishment, claimed the source. The last thing the current DoJ expected was for Weil to be so silly as to wander into an extradition warrant; US lawmakers did not want Weil on trial anymore that Weil did. A solution would have to be reached.
The source was Douglas Birkenfeld, the brother of UBS whistleblower Bradley. We thought his overtures were somewhat fanatical. But whatever the case, he turned out to be right – Weil was cleared of all charges and he walked.
It is fair and just that HSBC's Swiss banking activities are exposed. This latest move follows on from tireless and impressive work done to counter the inequality of offshore banking carried out by the International Consortium of Investigative Journalists. Business owners, uber-wealthy celebrities and party political donors deserve to be named and shamed, and of course the bank will have to pay.
But some secret accounts are more secret than others, some tax dodgers are just too established to make headlines, and justice will always turn out to be measured and relative.