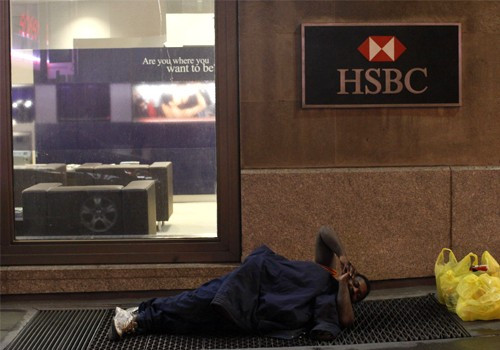 Reports of a worldwide outage on HSBC banking services have flooded Twitter, with jilted customers reporting problems withdrawing money from ATM Machines and making card payments.
As well as the inability to make payments numerous customers have also reported problems with HSBC's online banking service. At the time this article was written the IBTimes had been unable to get through to HSBC either by telephone or email.
The only direct word from HSBC stemmed from its Twitter account, which posted numerous tweets stating it was aware of the problems and was working to fix them.
"We are experiencing some problems - sorry for the inconvenience. Please follow for updates," read one of HSBC's opening tweets.
Since the reported problems with its services emerged, HSBC has issued a statement blaming the outage on a computer glitch.
"Sorry for the inconvenience, especially on a Friday. Will update ASAP #HSBC
@TelegraphNews: HSBC cashpoints and online banking services stop working after being hit by a computer glitch," read HSBC's tweet.
Like the BlackBerry outage before it, the lack of communication by HSBC has already led to a back-lash by customers, with social media sites such as Twitter being flooded with complaints.
"@HSBC_UK_Online for ruined my weekend, have had to cancel my trip, which I was really looking forward to. HSBC have lost a customer!" read one tweet.
"So HSBC is down. I have no money and access to money. Thanks H I have no money for food or anything," added another.
According to the Daily Mail, the outage began 2:35pm. HSBC has offered no estimate as to when customers can expect the outage to end.
UPDATE: HSBC has issued a statement claiming its cashpoint services are running again. "hsbc_uk_press HSBC UK Press Office ATMs should now be back on - let us know # HSBC," read HSBC's tweet.
UPDATE: Online and card payment services are now also being reported as fixed.