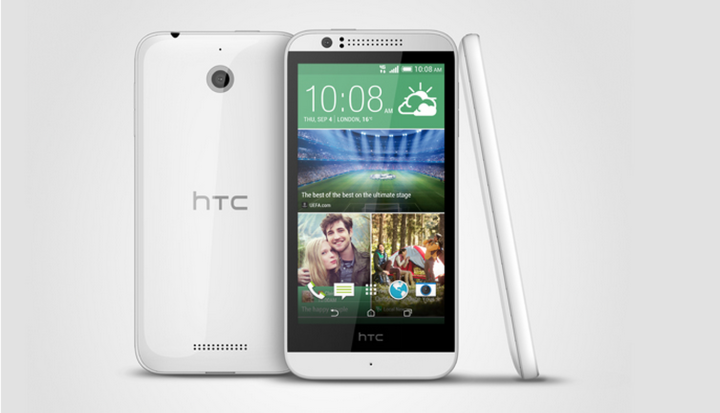 HTC has launched a budget smartphone which offers users access to faster 4G connectivity for less than £150.
HTC has been struggling badly in the ultra-competitive smartphone market in the last couple of years, with sales falling by 29% in 2013 while the smartphone market in general grew by 36%. 2014 has been no better, with the company predicting this quarter will be the 12th consecutive quarter of declining sales on a yearly basis.
The company is hoping that by offering 4G connectivity at a low price, it will help grow its customer base at the low end of the market.
The Desire 510, which will launch in the UK next month, will complement the company's flagship HTC One M8 smartphone and the mid-range HTC Desire 816 and HTC One Mini 2.
The problem for HTC is that the budget end of the market has become highly competitive and earlier this year EE launched its own-brand Kestrel smartphone offering 4G connectivity for less than £100.
Budget
Elsewhere the HTC Desire 510's budget credentials are clear to see. The phone features a 4.7in screen which has a resolution of just 480 x 854 giving it a pixel density of just 208 pixels per inch (ppi). For comparison the £99 Moto G has a pixel density of 326ppi.
The Desire 510 also features a relatively low resolution 5 megapixel sensor in the rear camera which is also lacking a flash. There is a front-facing VGA camera, something many budget smartphones omit.
The phone will come with Qualcomm's quad-core Snapdragon 401 chip, 1GB of RAM, 8GB of internal storage, a microSD slot and will run Android 4.4.
As well as working on all 4G networks in the UK, the Desire 510 will come with Bluetooth 4.0, Wi-Fi N and DLNA.
The budget smartphone market in the UK is currently as competitive as the high-end with devices like the Moto G and Moto E from Motorola and the Lumia 630 and Lumia 530 selling for between £60 and £100.