Key Features:
4.5in screen (720 x 1280)
13 Megapixel camera
16GB storage; 1GB RAM
10.6mm; 137g
Android 4.4 with Sense 6
Price as Reviewed: TBC
HTC One Mini 2 Review
HTC is trying hard to come back from what has been a disastrous couple of years in the smartphone market.
It began last year with the highly acclaimed HTC One and has followed that this year with the equally well received HTC One (M8).
However awards and accolades don't pay the bills and so HTC has admitted it needs to diversify its range more, with the launch of the HTC Desire 300 being the first step on this process.
Another is the update to its small flagship smartphone, the HTC One Mini 2, which it hopes will attract those looking for a smaller, less powerful and cheaper version of the flagship One M8.
Putting aside the fact it has the worst name in the history of smartphones, can the One Mini 2 kickstart HTC's revival?
---
HTC One Mini 2: Design
---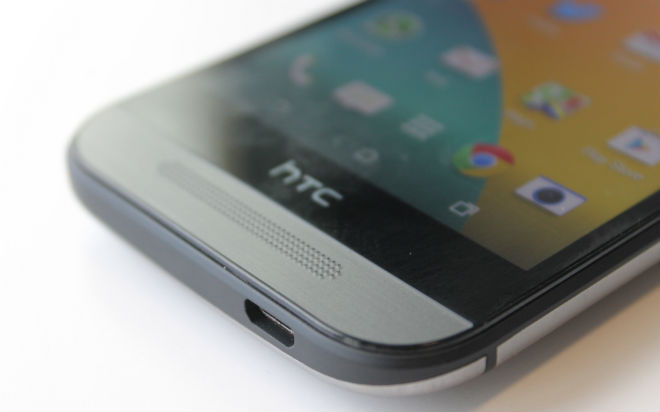 There is no getting away from it. HTC is making the best looking and feeling smartphones on the market today. It is matching Apple in terms of premium quality, but out-doing it in terms of size and comfort.
The HTC One M8 was a beautifully built and designed phone, but for me, it was slightly too big, which is why I think the HTC One Mini 2 is just about the perfectly size for a smartphone.
It retains the brushed metal, curved rear cover which makes it so comfortable to hold, and while it has added some plastic in the surround, the matte black finish doesn't look out of place on this premium device.
At 137g it is lightweight, but at 10.9mm thick, compared to the HTC One M8's 9.4mm, the Galaxy S5's 8.1mm and the iPhone 5s 7.6mm it does seem a little chunky compared to the high-end smartphone, but nothing that makes it unusable.
The phone is also taller than you might expect, but this is to accommodate HTC's BoomSound speakers which may not be as loud as on the One (M8) but are still excellent.
---
HTC One Mini 2: Screen
---
The screen on the mini version of the HTC One has increased in line with its bigger brother, jumping from 4.3in on last year's model to 4.5in on the new phone.
As the size has jumped so has the resolution from 720 x 1080 to 720 x 1280, meaning the pixel density drops only slightly from 342 pixels per inch (ppi) to 326ppi, which is identical to the Retina display on the 4in iPhone 5s - but someway short of the 441ppi on HTC's flagship device.
Stats aside, the 4.5in screen on the HTC One Mini 2 is excellent. It has superb viewing angles and excellent colour reproduction.
While it may be a bit small to watch an entire film on, the screen on the HTC One Mini 2 is still crisp and bright enough to make watching YouTube clips, reading websites and playing games a pleasure.
---
HTC One Mini 2: Hardware and battery life
---
The HTC One Mini comes with Qualcomm's midrange chipset - the Snapdragon 400 - which is one of the main areas when HTC has cut some corners. Unlike Sony, which crammed all the performance of its flagship Xperia Z1 into its Xperia Z1 Compact, HTC is clearly positioning this as a step below its flagship device.
The Snapdragon 400 chip is paired with 1GB of RAM and while these specs are not cutting edge, it is hardly noticeable during normal use of the phone. Apps open and close quickly, the interface is responsive and streaming HD video is smooth.

The One Mini 2 even has little problem playing Grand Theft Auto 3, though the experience is not quite as smooth as on other devices.
The phone comes with 16GB of storage, just over 10GB of which is accessible to users. Having downloaded my apps and put 4GB of music on the phone however, I was already getting warnings that the storage was running low.
Thankfully HTC has brought the microSD card slot from the One (M8) meaning you can cheaply add up to 128GB of extra storage.
The phone comes with the usual array of wireless connections such as Bluetooth, Wi-Fi N and NFC as well as support for 4G networks here in the UK.
The phone comes with a 2100mAh battery which HTC claims gives you 16 hours of 3G talk time. In reality what you get is one full day of typical use.
HTC has also included its extreme power saving mode, which you can set to turn on when the battery hits a specific charge. It disables most features which kill you power and turns on a simplified launcher only allowing access to the remaining features - a great feature when you are travelling and need you phone to last as long as possible.
---
HTC One Mini 2: Camera
---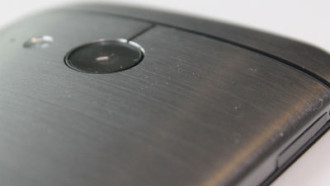 HTC introduced the Duo Camera and dual LED flashes on the One (M8) earlier this year, but these features haven't trickled down to the company's smaller phone.
Instead you get a 13 megapixel sensor with LED flash, which makes for a perfectly good camera. It does Full HD video capture and image quality is good, if not great.
Low light performance cannot hold a candle to the likes of the Xperia Z2 or Lumia 1020 but for those not looking for a replacement for their compact camera then the One Mini 2 offers good enough quality for casual images.
The front-facing camera on the HTC One Mini 2 is identical to that on the flagship device and offers excellent quality for video calling.
---
One Mini 2: Software
---
HTC has added its own software skin, called Sense on top of the latest version of Google's mobile operating system, Android 4.4.2 (KitKat).
The main addition to the interface is BlinkFeed, which is HTC's visual newsfeed which draws in content from your social networks and particular publications. It has been updated since last year now giving you the choice to create you own feeds for particular areas of interest (films, sports, etc) which is great.
I'm still not convinced that it does anything my Twitter lists don't already do, just in a funkier, graphical manner.
The rest of the interface is pretty typical, though HTC continues to make tweaks to standard parts of Android like notifications, quick settings, the app drawer and recent apps. It's all fine but I really don't see what additional benefit it brings over Google's implementation.
---
One Mini 2: Value and Verdict
---
HTC has not announced SIM-free pricing of the One Mini 2 as of yet, but with last year's model coming in at around £379, I expect this model to cost about the same. It is available to pre-order in the UK on 24-month contracts of £25-a-month with no up-front cost.
This price puts it well below the likes of the One (M8) which costs £530 SIM free and puts its alongside the likes of the Nexus 5, Huawei Ascend P7 and Moto X - and the HTC One Mini 2 is at least a match for all of these.
The phone is well-built, well designed, and despite not having the most cutting edge technology has enough power to easily meet most people's needs. It has a great screen and decent battery life, and is much easier to use in one hand than most of 2014's flagship smartphones.
It may be ever-so-slightly bulky, but for me this is one of the best smartphones on the market today.
Scores:
Screen 9/10 – A 4.5in screen with Retina resolution
Camera 8/10 – Decent quality with good front camera
Software 8/10 – BlinkFeed still feels unfinished but Sense 6 is better
Design 9/10 – Loses a point for bulk but other than that it's beautiful
Build quality 10/10 – Flawless
Overall 9/10 – A great, lower price option to HTC's flagship phone.
The Good:
Beautiful design and well built
Bright and sharp screen
Fast and responsive despite mid-range chipset
The Bad:
Slightly chunky
Limited in-built storage